Blue Lace Agate Meaning

The Properties and Meaning of Blue Lace Agate Crystal

The Crystal Blue Lace Agate is part of my Crystal Meanings series...
As with all blue crystals, this delicate coloured stone is used an an excellent aid to communication.
This can be audible communication with others or communicating internally with your higher self. It can allow you to 'find your voice'.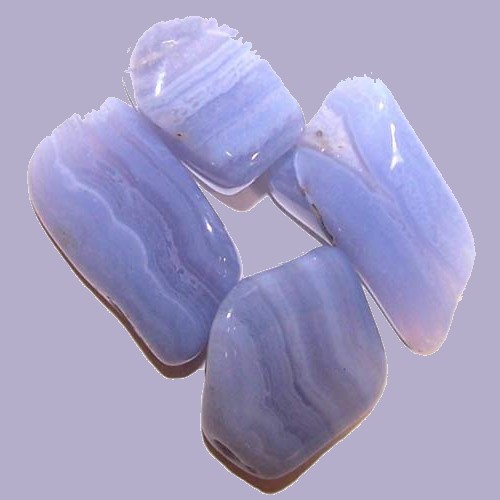 Blue Lace Agate is one of the most useful healing crystals as it associated with healing of all kinds and added to other crystals will bring an all round gentle healing to whatever else has been prescribed.
It is therefore an excellent addition to any assortment of power stones, and one which will complement them all.
Magical Crystal Meanings for Magic & Divination
Blue Lace Agate is connected with the Element of Water and the direction of West. The Temperance Tarot card is also linked with this stone. 
Magical purposes for use in rituals and Spell work associated with this crystal are for calming, soothing, articulation and finding truth.
Its other main usage for magical workings is for healing, protection and peaceful transformation.
I use this delicate blue crystal in the Spells I cast including my Protection Spells and Weight Loss Spells
Having a Spell cast can bring miraculous results very swiftly and can literally change your destiny for the better.
If you have an interest in spirituality, are intrigued by astrology, fascinated by Tarot cards or captivated by Psychic abilities, then the next logical step is to look into the power of Magic.

Having a Spell cast is Magic you can believe in.

And even if you are slightly skeptical, uncertain or wary, powerful positive energies combined with expert Spell casting will soon have you convinced in the power of Magic.
Myth, Legend and Folklore

In ancient times Agate was highly valued as a talisman or amulet and regarded as a cooling stone capable of reducing fever, quenching thirst, and ensuring good health and a long and prosperous life. The Ancient Sumerians and Egyptians also used it for receptacles and ornamental pieces.
The Greeks and Romans carved it into cameos and intaglios (i.e. a gem carved in negative relief).
Healing Properties

This stone is helpful for problems involving the head, brain and eyes. It is also useful for problems related to bones and arthritic conditions and is helpful when used to help mend breaks and fractures of the bones.
It can be used to help remove blockages from glands that are associated with digestion and help with weight loss.

Spiritual Properties
For meditation purposes this blue crystal is ideal as it is connected with the throat Charka enabling you to articulate, communicate and find truth in situations and people. It is a calming and stress relieving stone.
Scientific Information

Blue Lace Agate is a form of Quartz related to the Chalcedony group. It has a hardness of 7.
Agate is found all over the world including Africa, Brazil India, Mexico, Nepal, and the USA.

I use Crystals in my Magic Spell Casting to change destiny for the better!!!
The NEW Moon is approaching!
Get your New Moon Spell for December 2023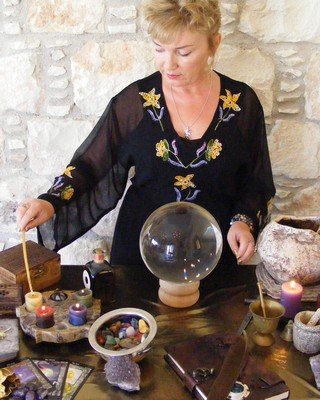 A New Moon Spell That Works


Have a New Moon Spell cast by a real Witch on the upcoming New Moon. A New Moon Spell to manifest whatever you most desire!
Cast on the next New Moon by Alizon, an experienced White Witch and Spell Caster.
---
D
on't miss out on the coming New Moon December 2023... Your chance to change your destiny:
You may want a New Moon Spell to:
Boost your Ancient Magical Chants

Attract a new love into your life
Begin a fresh start with an ex-lover
Success with any new project, enterprise or relationship

Commence a new career or business

Manifest a new period of abundant wealth and prosperity
Bring positive good luck for lottery wins and gambling
Or any positive purpose you may have
---
---