Find a small pebble, rock or tumblestone crystal that is small enough to fit into your clenched fist. This will now become your Amulet. You need to transfer your essence and spirit into this Amulet.
Hold your Amulet and concentrate deeply on what you most want. After a minute or two your DNA, your sweat and your fingerprints will be imprinted onto your Amulet. This is very important as it is the only way that the Black Magic Ritual will be directed at you and no-one else.
Once you've done this take a piece of plain white paper and write with a black pen exactly the thing that you desire, together with your full name at birth and your birthday. Once you've done this wrap your Amulet in the paper. Take the wrapped Amulet to a place where you can dig up some soil to bury it.
Once you've dug a small hole, spit three times into the hole.  Before placing your wrapped Amulet into the hole. This again is vital as it will reinforce that you and only you will be the recipient of the Black Magic Ritual because your spit contains your DNA. Next cover up the hole with soil. With your left foot stamp very firmly three times upon the covered hole and say these words.

"I summon my wish to come to me."
Go away and never return to the amulet.
Within 3 days, 33 days or 333 days your wish will be granted.


The NEW Moon is approaching!
Get your New Moon Spell for December 2023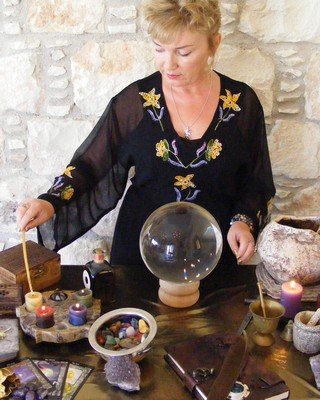 A New Moon Spell That Works


Have a New Moon Spell cast by a real Witch on the upcoming New Moon. A New Moon Spell to manifest whatever you most desire!
Cast on the next New Moon by Alizon, an experienced White Witch and Spell Caster.
---
D
on't miss out on the coming New Moon December 2023... Your chance to change your destiny:
You may want a New Moon Spell to:
Boost your Ancient Magical Chants

Attract a new love into your life
Begin a fresh start with an ex-lover
Success with any new project, enterprise or relationship

Commence a new career or business

Manifest a new period of abundant wealth and prosperity
Bring positive good luck for lottery wins and gambling
Or any positive purpose you may have
---