Aries Personality Traits
---
Alizon - expert, experienced, skillful, knowledgeable...
The Power of Magic
If you have an interest in spirituality, are intrigued by astrology, fascinated by Tarot cards or captivated by Psychic abilities, then the next logical step is to look into the power of Magic.
Having a Spell Cast is Magic you can believe in.
---
Top Selling Spells
Aries

Aries personality traits are characterised by a go-getting nature, a vibrant and positive outlook on life and innate leadership skills.
Aries is the first sign of the twelve signs of the Zodiac (Mar 21st - April 20th). Aries is represented by the Ram. Aries traits are developed by virtue of the fact that Aries is a Cardinal Sign and comes from the Element of Fire. The Cardinal Signs indicate action, initiation and assertiveness, whereas the Element of Fire denotes a passionate nature, strong leadership skills, a larger than life character and boundless enthusiasm. Thus Aries traits are a passionate and fiery combination.  
Aries Traits
Being first is a big part of the Aries personality, as they rarely like to be second best in anything. They are the pioneers in the Zodiac and will strive to take on a leadership role as often as they can. They are often quick thinkers and even quicker to take action. Aries love anything new and exciting and are first to initiate and instigate new ventures and projects.
Aries traits also include courage, ambition, optimism and enthusiasm. They seem to have boundless energy and rarely tire.
Aries Qualities
Aries qualities include a determined work ethic, resilience and bounce backability. They are seldom down, deflated or depressed and will work tirelessly to achieve their goals. 
And because of these Aries qualities they often face challenges with enthusiasm. They like to be winners and do not like to be defeated.  

Shadow Aries Traits

The dark Aries traits can include abruptness, aggressiveness and tactlessness. They also have a tendency to commence things but not finish them. Many Aries have short fuses and are quick to anger and can have an explosive temper.
They do not like to take orders and find it hard to work under others direction and control.

REVIEWS


FAQ
Kindle Book available NOW!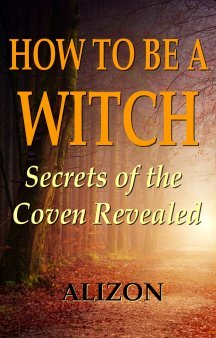 My newest project is finally complete!
How to be a Witch: Secrets of the Coven Revealed!

How to be a Witch presents a unique insight into Witchcraft and how to practice it, revealing the secrets of the Coven.
Available NOW on Amazon in the Kindle Store!
(Kindle Reader - paperback version on its way)

Visit the Amazon Kindle Store: How to be a Witch: Secrets of the Coven Revealed
231 pages, packed with Secrets - Only $3.99/£2.31 FREE on Kindle Unlimited
Did you love this page? Please share it with your friends!

The law requires me to state that the contents of this website are for entertainment purposes only.
Psychic, tarot and spell casting services cannot be a substitute for professional, legal,
medical, financial or psychiatric advice/care, where appropriate.
You must be at least 18 years old to make any purchase from me.

© Copyright All Original Content 2006 – 2019 Alizons-psychic-secrets.com. All Rights Reserved.
Reproduction in whole or in part without permission is not permitted.