Aphrodite

The Goddess Aphrodite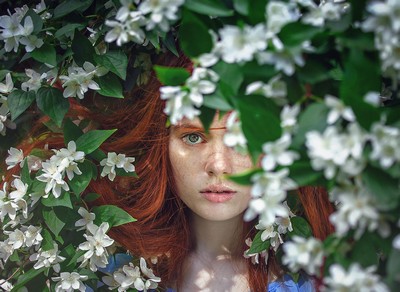 Aphrodite was the the Greek goddess of love, beauty, sex, fertility and pleasure. Her Roman counterpart was the goddess Venus.
In Greek mythology she was revered as a powerful goddess of love and seduction and encapsulated feminine charms.
Like the Roman goddess Venus, she embodies female sexuality and fertility. Prostitutes were said to hold this Greek goddess as their patron.
Although there are many accounts of how Aphrodite came into being the two most popular are that she was the daughter of the Olympian god Zeus and Dione.
In the other version, it is said that she rose from the sea foam off the coast of Cyprus. Many temples and shrines were erected to honour throughout the island of Cyprus. But her influence spread throughout ancient Greece.
As depicted in Botticelli's The Birth of Venus she was blown ashore, naked on a seashell. the painting features the flowers of violets, roses and myrtle, which are all known to be effective when used in love potions and love Spells.
Zeus selected the ugly and deformed Hephaestus as her husband as a contrast to her intense beauty. But she did not remain a faithful wife and took many lovers. Her son was Eros with Cupid being the Roman counterpart.
---
Goddess Angel Oracle Card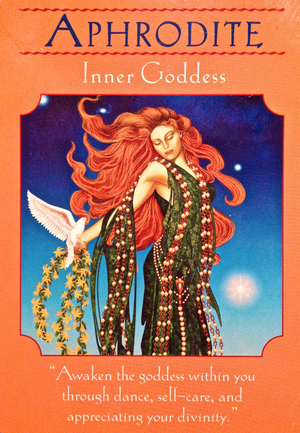 The delightful Goddess Guidance Oracle Cards, by Doreen Virtue, Ph.D features the Greek goddess Aphrodite.
The words on this Inner Goddess Oracle card urges you to
"Awaken the goddess within you through dance, self care and appreciating your divinity."
The message outlined in the Goddess Guidance Oracle Cards is:
"Allow your inner feminine wisdom and dynamic beauty to rise to the surface. Cherish its power and meaningfulness.No matter whether your physical body is male or female, you have an inner femininity that nurtures you, and guides you with its intuitive principles. Now is the time to become aware of, take excellent care of, and celebrate your magnificence!"
This is a very inspiring and motivational message and encourages you to have faith in your powers of sexuality.

If you are having difficulties in relationships then think seriously about having a Sexual Attraction Spell cast.

Having Difficulty Attracting a Lover?
A Sexual Attraction Spell will Draw them to you irresistibly!
---
Judgement of Paris
The first beauty pageant was held among the Greek goddesses. The story begins with the Greek god Zeus, who was planning a wedding banquet for Peleus and Thetis. Everyone was to be invited apart from Eris, the goddess of strife and discord.
Eris was understandably unhappy at being snubbed and decided to cause some trouble at the wedding reception. She created a golden apple and wrote upon it the word Kallisti meaning "To the fairest one" and rolled it into the banquet.
Three beautiful Greek goddesses were attendees at the wedding reception and all claimed the golden apple was meant for them. They were Hera, Athena and Aphrodite. They squabbled over the ownership of the apple and the title of 'the fairest' until Zeus commanded a mere human named Paris to decide which of the goddesses was the most beautiful.
All three goddesses were very beautiful and so it was never going to be an easy decision for the simple shepherd boy Paris. Each goddess offered a bribe to Paris if he chose her. Hera offered great wealth, Athena offered heroic victories and Aphrodite offered him the most beautiful woman in the world – Helen of Troy.
Paris chose Aphrodite and gave her the apple and title of most beautiful. True to her word, she gave Helen, wife of King Menelaus of Sparta to Paris. This and the wrath of the rejected goddesses Hera and Athena led to the Trojan War.

---
New Moon Spell September 2022

AFTER YOU HAVE PAID
CLICK HERE to send me your details
Within 24 hours I will email your detailed Spell schedule
When purchasing this service from me you are assumed to have read my Terms and Conditions
I look forward to casting your Spell on your behalf. The moment I cast a Spell for you it immediately begins working on your request. After the Spell has been cast I will send you notification that I completed and cast your Spell.
---
Don't miss out on the coming New Moon September 2022... Your chance to change your destiny:
You may want a New Moon Spell to:
Attract a new love into your life
Begin a fresh start with an ex-lover
Commence a new career or business

Manifest a new period of abundant wealth and prosperity
Bring positive good luck for lottery wins and gambling
Or any positive purpose you may have