A Blue Moon Spell
31st May 2026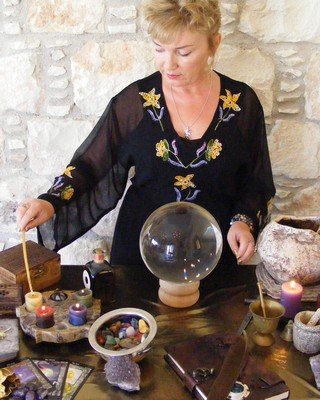 A Blue Moon Spell That Works

Have real Witch Alizon cast a Blue Moon Spell just for you! A very powerful Blue Moon and Super Moon Spell to manifest whatever you most desire and bring amazing benefits!
Powerful & Potent Blue Moon
BLUE MOON SPELL
JUST $99.99
Cast on the evening of the next Blue Moon 31 August 2023 by Alizon, an experienced White Witch and Spell Caster.
---
Blue Moon Magic
A very rare Blue Super Moon holds significant spiritual and magical potential, amplifying the energy of spells and rituals performed under its light.
Experience the life-transforming magic of this rare Blue Moon Spell cast by me, Alizon. Whether you crave more wealth, more love, more confidence, more passion, more control, more strength, more success, or more happiness, my personalized Blue Moon Spell is your key.
Get ready for a boost, because Blue Moon Spells are not just strong – they're TWENTY SEVEN TIMES STRONGER than any other time. This means your desires for money, love, success, and more can manifest rapidly and effectively. By harnessing the Law of Attraction through a Blue Moon Spell, you're setting the stage for your dreams to become reality, altering your destiny for the better.
In a Blue Moon Spell that works, I tap into the extraordinary power and energy of the Blue Moon. My Spells are like no other – their strength is magnified by the moon's peak energy, making them even more potent and impactful than Spells cast at different times.
Picture this: Blue Moon Spells act like a powerful force field, dispersing negativity and shattering obstacles with ease. They're your secret weapon for tackling complicated, stubborn, and tricky situations head-on.
When you choose to have a Blue Moon Spell cast, you're choosing to believe in Magic – and why wouldn't you? With my expertise and the mighty energy of the Blue Moon, your dreams are not just within reach, they're on the fast track to becoming your reality. Embrace the enchantment, and let your life be transformed!
---
Real Witch Casting Real with Real Results

Because I am a real Witch, casting real Spells with real results I'm so excited to be able to offer a very rare, extremely magical and powerful Blue Moon Spell.
A Blue Moon only occurs every two and a half years or so and is an amazing magical phenomenon.
The next Blue Moon is on May 31 2026

Powerful Magic Spells cast on the evening of a rare Blue Moon by an experienced Witch, such as myself, are known to be 27 times more potent than any other time.
---
Discover the Secrets of a Blue Moon Spell
You can request anything you desire to be included in a Blue Moon Spell. You can ask for abundant wealth, vibrant health, true love, success and real happiness. This Spell is so special and is limitless in its power and potency.
So don't miss out on this once in a life time opportunity for life changing results. I have limited numbers of Blue Moon Spell spaces so order now to avoid disappointment.
I look forward to casting your Spell on your behalf. The moment I cast a Spell for you it immediately begins working on your request. After the Spell has been cast I will send you notification that I completed and cast your Spell.
---
I have limited privileged, premium Blue Moon Spell appointments available, so act now and book yours as soon as possible.
Don't miss out on the next Blue Moon, as I know these appointments will be snapped up quickly.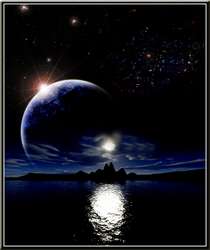 ---
Blue Moon Energy
Even if you are slightly skeptical, uncertain or wary, powerful positive energies combined with expert Spell casting will soon have you convinced in the power of Magic. I ensure that my Spells are carefully crafted, use only positive energies and are cast expertly and effectively.
All my Spells that I cast cause harm to none. My Spells cannot backfire and do not force or bend the will of anyone. I work only in love and light and use only the positive form of White Magic.

Thousands of my clients have already benefited from the powerful Spells I have cast for them. Discover for yourself the secret power of Magic.
---
Once in a Blue Moon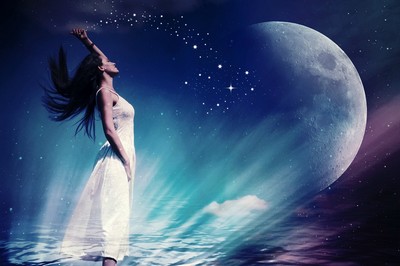 The phrase "Once in a blue moon" is taken to mean seldom or rarely happening. And this is the case with a Blue Moon.
A Blue Moon occurs when a second full moon falls in any one calendar month. Usually months have only one full moon, but occasionally there can be a second one named a Blue Moon. Full Moons occur every 29 days, but most months are 30 or 31 days long; so it is possible to fit two Full Moons in a single month. This happens every two and a half years, on average. The next Blue Moon happens on August 31 2023.
So this is your "Once in a Blue Moon!" opportunity to have a Spell cast for any positive purpose by me, Alizon, an experienced English White Witch.

---
Moon Phases

The moon phases are seen as important for many established and traditional religions, often marking special significant dates in the religious calendar.

Both the Islamic calendar and Jewish calendar are lunar. Christianity sets its most important event of celebrating Easter on the first Sunday following the first full moon after the spring equinox. Buddhism, Sikhism, Hinduism and Jainism also follow the moon cycles to mark significant festivals.

The practice of the 'Craft', known as Witchcraft, Paganism and Wicca all place greater significance than other religions on the moon and its phases. Of particular importance are the full moons which are celebrated and honored and known as Esbats.

The full moon or Esbat is seen as a potent and special time to celebrate, practice rituals and to magically Spell cast for any positive purpose – love, money, health and happiness for example. And the rare Blue Moon is considered an exceptionally potent time to Spell cast.

---
Casting Blue Moon Spells That Work
I personally guarantee that I will do my very best for you and you will discover the real secrets to abundant wealth, prosperous health and loving happiness.
Unlock the extraordinary potential of the Blue Moon Spell, customized for your unique desires. This remarkable Blue Moon Spell is a gateway to boundless abundance, wealth attraction, and prosperity – an unparalleled force of positive energy. Cast exclusively during the rare Blue Moon, its power knows no bounds.
Imagine a Spell that encapsulates luck, good fortune, and success. With a Blue Moon Spell cast, you can draw abundant wealth, unwavering love, unshakeable luck, boundless success, and sheer happiness into your life.
And here's the best part – you don't need to wait for the next Blue Moon on August 31, 2023, to experience its magic. If you're eager for a Spell of Wealth, Love, Protection, Fertility, or Prosperity before then, simply head to my Spells Page.
The Spells I cast on your behalf are cast in love and light, with harm to none. They cannot backfire and do not bend the will of anyone. They're designed to work harmoniously, avoiding any negative effects or interference with free will. Experience the extraordinary power of the Blue Moon Spell and transform your life today!
---
Casting a Blue Moon Spell
I can guarantee that a Spell cast on the Blue Moon, by me, on your behalf is carefully crafted for optimum results. I use a minimum of 21 ingredients for casting a Spell cast on the Blue Moon
The Crystals, wild herbs and other ingredients I use for casting your Blue Moon Spell are chosen for their powerful and potent magical properties and positive energies.  All the ingredients I use to formulate your personal Spell cast on the Blue Moon are gathered, ritually blessed, charged and prepared personally by me during the appropriate Magical Lunar Phases.
Crafting your personal Blue Moon Spell is a labor of love. Every ingredient is gathered, ritually blessed, charged, and meticulously prepared by me, following the precise phases of the Magical Lunar cycle. This ensures that the Spell is infused with the strongest possible energy to manifest your desired results.
A Blue Moon Spell that I cast isn't just an ordinary Spell – it's a masterpiece of intention, energy, and nature's finest elements. Get ready to experience the power of this perfectly crafted Spell and unlock its potential on the upcoming Blue Moon. Your dreams are about to become reality!
---
Positive energy is very important if you are to live an abundant and prosperous life and build up good karma. A great way to do this is by undertaking some charity work.