Easy Tarot Reading Course
This is an easy to learn Tarot Reading Course.

You do not need to know anything about the Tarot Cards beforehand to become a good Tarot Reader if you take this easy to learn Tarot course.


The Mystique and Power of the Tarot Revealed to You!

Learning the Tarot is not just about giving Tarot Readings. Studying the cards, their meanings, and immersing yourself into their mystique and power, will have a profound effect on many aspects of your life, such as:

Personal Development
Developing Psychic Ability
Divination Skills
Who Is It For?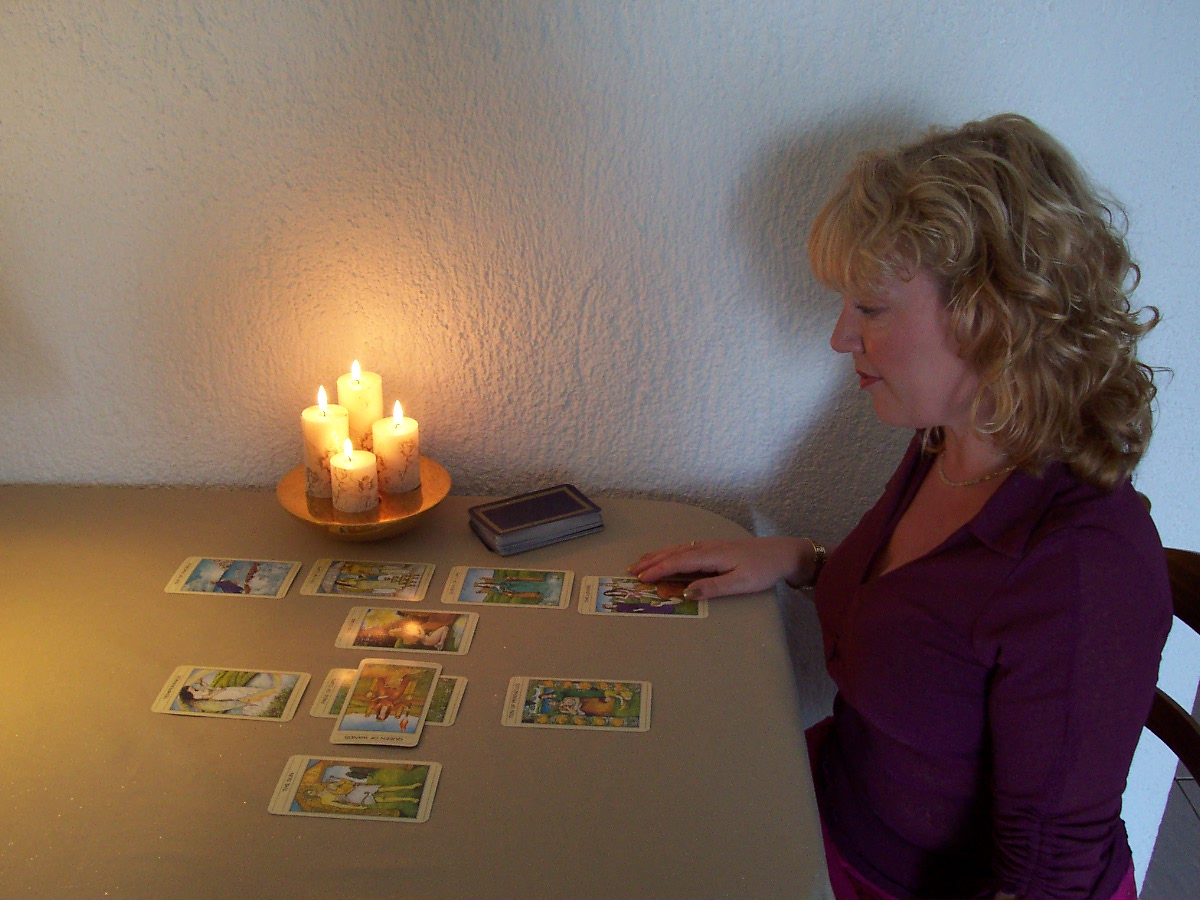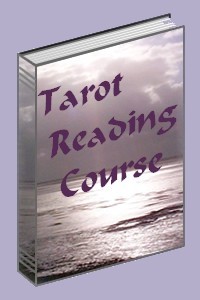 It's a great Tarot course for the complete beginner or for those who know a little about the Tarot. The Tarot Reading course takes you from complete novice to a confident Tarot Reader. You will be able to conduct your own Tarot Readings for yourself, friends and family and even paying clients.
The Tarot Course contains all you need to know to understand and interpret the Tarot, to use simple but impressive Tarot Spreads and to give Tarot Readings for yourself and to others.
The Tarot Reading course has been devised in a simple, easy to understand format.
You will find that this Tarot course is the easiest and most cost effective way for you to start learning the Tarot so that you become confident and reach a professional standard quickly.
If you think you can never be good enough to be a Tarot Reader or lack the confidence to make a go of it – well think again. This Tarot Course has all the tips you'll need to surprise yourself, your friends and family and even paying clients. This truly is a life changing opportunity that you cannot afford to miss.

Tarot Reading Course - Benefits to You
Personal Development
Using Tarot cards and learning Tarot card meanings for personal development and guidance is very empowering. Your confidence will grow, your spiritual awareness deepen and your ability to communicate with your inner self will strengthen.
Psychic Ability
Along with learning to interpret each Tarot card and mastering some simple Tarot spreads you will get some helpful tips on increasing your psychic ability and Reading for other people.
Learning the Tarot is the simplest way to increase your psychic ability. Whatever your starting point, you will increase your psychic abilities on this Tarot Course.
Divination
The Tarot cards have been used for centuries as a form of divination or fortune telling. The Tarot course will allow you to predict such events as a marriage, a pregnancy, a new job or a new lover in Tarot Readings you give for yourself or others. The Tarot can predict major and minor events in your life or to those you give Tarot readings to.

---
For a single, small one-off payment, you will receive the whole of Alizon's
complete comprehensive but simple to follow Tarot Reading Course.

Your Tarot Reading Course will be sent to you as soon as possible by email.
Please allow up to 24 hours and provide a working email address to receive the course. (If, however you do not receive the course within that time then email me as occasionally documents can go astray and end up in Bulk or Spam folders.)
This item is sent in Portable Document Format (PDF) and requires Adobe Acrobat Reader to access.

TAROT COURSE OUTLINE
Section 1 The Major Arcana
This first Section will introduce you to the Tarot. The first group of the Tarot deck, the Major Arcana will be examined in detail. Your first task will be to look through the 22 Major Arcana cards, and complete a series of questions on your thoughts, feelings and emotions that each card evokes for you.
Section 2 The Fools Journey & Major Arcana Readings
In this Section you will follow the journey of the Fool and relate this to your own life and journeys you have made. After this you will be in a position to perform a Tarot Reading using only the Major Arcana.
Section 3 The Minor Arcana- Qualities of Suits
This Section will introduce the second group of the Tarot deck to you, the Minor Arcana. The focus of this Section will acquaint you with the four suits' qualities. The corresponding assignment will involve you relating what you have learnt to real life situations and characters.
Section 4 The Court Cards
The Court cards are the focus of this Section. You will familiarise yourself with each of the 16 Court cards and again relate traits and characteristics to real life.
Section 5 Number Cards 0-10
This Section will introduce you to the number cards. You will be in a position to compare and contrast the different qualities of the suit for each of the number cards.
Section 6 Tarot Spreads
This Section will look at Tarot spreads, focusing on two simple but effective spreads that will enable you to practice Tarot Readings.
Section 7 Readings and Intuitive Skills
In this final Section you will learn how your intuitive skills can be used in conjunction with all the knowledge you have gained in previous Sections so that you are able to give Tarot Readings with confidence.

Order Your Tarot Course
Click on the Order Now button now to purchase your Tarot Reading Course for just $25.00 and begin learning the Tarot fast! Your Course is sent within 24 hours.
You can buy a Tarot Course for a friend - it makes a wonderful gift.
Tarot Reading Course
DISCOUNT PRICE ONLY $25.00
NORMALLY $70.00


After making payment click here to enter and submit your details. You will be asked to provide:

Your full name
The email address you want the Course sent to

(TAROT PACK NOT SUPPLIED)

Please allow up to 24 hours. If you do not receive the course within this time then please contact me as occasionally documents can go astray and end up in Bulk or Spam folders.

---
The Tarot deck used to illustrate is the Rider Waite Deck. You can buy this Tarot deck here from Amazon or use any other Tarot deck you have.

THE ORIGINAL RIDER WAITE TAROT DECK (CARDS)
by Arthur Edward Waite

A.E. Waite was a celebrated writer on occult topics who first created his tarot pack in 1910, with cards designed by Pamela Colman according to his instructions. The 78-card deck is now almost certainly the most widely used in the world, and it remains as popular as ever.

"Alizon is an experienced Trainer and has devised, delivered and presented many courses on a wide range of subjects throughout her career to many, many people. She always ensures that any course she offers has content that is easy to understand with a straight forward, no nonsense style so that it is easy to learn."



---
Client Reviews


Christine from Stamford, Connecticut, USA

"Hi Alizon! Thank you for another GREAT Casino win! after casting me a Money Spell."
Thomas from Muir, Switzerland

"You cast a Money Spell for me. My turnover increased 70% during the last three months! You helped me in a great way."
Terrence from Sacramento, California USA
"I wanted to thank you for the Money Spell you cast for me. I have seen immediate results and look forward to the continuous positive energy. Blessings to you."
Alexa Aurora, Colorado USA
"Hi! Again, thank you for all your work on the Money Spell. There have been amazing positive energies flowing around my finances already."
Judith from Wrexham, North Wales, UK
"I just wanted to thank you for casting the Full Moon Triple Cast Love Spell from the bottom of my heart. I know the full moon can be powerful but I didn't expect such great results so soon."
Charles from Smithfield, Queensland, Australia
"Thank you so much for the amazing and fantastic extreme success you had in the Return Lover Spell you did. Within 24hrs my ex contacted me and wanted to see me straight away. I could not believe it. It was amazing."
Lynne from Topeka, Kansas, USA
"You cast an Attraction Spell for me. It took several weeks to work, but when it did, it worked like ... well like magic! I have found the most wonderful, perfect, man in the world for me!"
Graham from Dartmouth, Nova Scotia, Canada
"Just one word – UNBELIEVABLE!!! The reaction I got just days after you cast the Sex Spell was incredible."
Nina from Picton, NSW, Australia
"I just wanted to share with you the best news ever! Your Fertility Spell worked! I've waited so long for this to happen and I'm over the moon. Thank you so much Alizon."
Yvette from Singapore
"The Psychic Ability Spell you cast has begun to work. I can sense the connections with spirit much stronger than before. I have been more and more sensitive to other "beings" around me also."

The law requires me to state that the contents of this website are for entertainment purposes only.
Psychic, tarot and spell casting services cannot be a substitute for professional, legal,
medical, financial or psychiatric advice/care, where appropriate.
You must be at least 18 years old to make any purchase from me.

© Copyright All Original Content 2006 – 2017 Alizons-psychic-secrets.com. All Rights Reserved.
Reproduction in whole or in part without permission is not permitted.