Strength Tarot Card Meaning...

Strength Tarot Card Meaning
The Major Arcana Strength Tarot card in a Tarot Reading represents not just physical strength but the ability to cope with extreme pressure and win through in the end. The Strength card represents courage and determination and trusting your own abilities.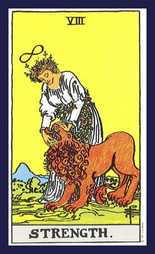 THE STRENGTH
TAROT CARD
It also represents compassion. In a Tarot Reading this Major Arcana card represents the need to use intellect and reason coupled with enthusiasm and energy. It shows that you are able to deal with whatever life throws at you and are equipped to overcome obstacles.
The Strength card indicates triumph over most things; challenges in relationships, career and even ill health. If illness has been an issue for you this Tarot card indicates good recovery. If you have been considering ridding yourself of an unhealthy habit or bad relationship this Major Arcana Tarot card indicates a good time to put plans into action. It is a time for being constructive, not destructive and understanding the consequences of actions.
If the Strength Tarot card is prominent in a Tarot Reading you are having it shows your self-confidence, inspiration and motivation should be at a high at the moment. You should now be feeling a time coming where you will be motivated to tackle any personal challenges but also be in a position to help, lead or guide others through their difficult times.
Everything will appear to slot into place with things unfolding, as they should. This is also a time of increased intuition and heightened psychic sensitivity. So be aware of your inner voice and ensure you listen to it.
Positive connotations associated with this card are strength, willpower, patience, and courage.
Negative connotations associated with this card are fear, inertia, defeat or loss of opportunity.
---
Do you want to turn your interest in the Tarot into a way of making good money? Go to my Tarot Reading Course page.
---
Getting a Tarot Reading



You can get a full professional and personal Psychic Tarot Reading from me, Alizon.
For more information CLICK HERE.

Learn the Tarot



Learn how to conduct your own Tarot Readings, for fun or for profit, with my professional standard certificated Tarot Reading Course CLICK HERE.
Do you want a Free Tarot Reading? Go to my Free Tarot Reading page.
Ancient Magic Talismans
Attract love, money, fame, fortune and more with a Spell Infused Talisman by Alizon. For more info on Talismans:
Click here
Lucky Charms
Very Powerful Protective Lucky Charms Spell Infused and Blessed by Alizon.
Click here for details
Magic Herbs
Visit the Coven Shop to find powerful Magic Herbs and pure Essential Oils for effective Spell Casting.
Click here
HOME PAGE
---