The Strength Tarot Card 
The Interpretation and Meaning of the Strength Tarot Card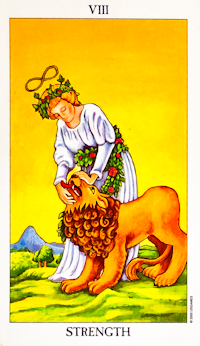 The Strengh Tarot Card is part of my Tarot Card Meanings series...
The Strength Tarot card is numbered 8 in the Tarot. This card is one of the Major Arcana cards.
The Strength Tarot card meaning generally indicates not just physical strength but the ability to cope with extreme pressure and win through in the end. It represents courage and determination and trusting your own talents, skills and abilities.
The Strength card can be a very positive in Tarot Readings and shows resilience and a resistance to allow circumstances to overcome you. It encourages the belief that you are able to deal with whatever life throws at you and are equipped to overcome obstacles.

Personality
The Strength card, as with all the Major Arcana can be a representative of an individual or aspect of a personality. The Tarot card meaning for this card can indicate someone with great power and strength to handle any situation. It shows an assertive person, dealing calmly with frustration, accepting others, maintaining composure and refusing to get angry. It can also indicate someone who is born under the sun sign of Leo.

Love
In questions concerning love and romance in Tarot Readings the appearance of the Strength Tarot card can indicate strong committed relationships. This Tarot card has strong links to the month of August and can show love relationships becoming deeper and more meaningful at that time. 

Career

For career or business questions asked in Tarot Readings the Strength Tarot card often represents a settled time. It can show a contentment with where you are and what you are doing.
The Tarot card meaning can also refer to careers that revolve around combining both mental and physical strength.

Money

When the Strength card has prominence in Tarot Readings it can mean feelings of comfort and security. It can show enough money coming in to balance the outgoings. It is a hopeful card. The Tarot card meaning of the Strength card in questions of finance can also indicate building up resources to afford a major purchase such as a house.

Health

The Tarot card meaning for questions concerning health can show improvements in health. If ill health has been a problem for you this card can indicate healing and recovery.
It also indicates the strength and resolve to rid toxic habits that might be damging your health.

General

If the Strength card is prominent in a Tarot Spread it can represent overcoming obstacles with strength and determination. It shows drawing upon your inner strength and perseverance. This can mean confronting issues from your past that need to be addressed.

I use Tarot cards in my Magic Spell Casting to change destiny for the better!!!

---
The law requires me to state that the contents of this website are for entertainment purposes only.
Psychic, tarot and spell casting services cannot be a substitute for professional, legal,
medical, financial or psychiatric advice/care, where appropriate.
You must be at least 18 years old to make any purchase from me.

© Copyright All Original Content 2006 – 2016 Alizons-psychic-secrets.com. All Rights Reserved.
Reproduction in whole or in part without permission is not permitted.