Soul Mate Searching?
---
Alizon - expert, experienced, skillful, knowledgeable...

The History of Spell Casting
Through the ages and within every culture older wise women have passed down their knowledge and skills of healing herbs, medicinal plants, phases of the moon and sun, the alignment of the stars and other natural phenomenon to younger generations.  

The crafting of ingredients, coupled with prayers, rhymes or chants (Spells) were sent out to the Universe to increase abundance, to bring love, to aid fertility and for protection.

I possess the knowledge, skill, expertise and experience to successfully cast Spells that work with the Universe to help you with your desires.

I am an experienced Spell caster of 40 years and have a wide knowledge of herbs, oils, crystals and other ingredients, their qualities, their energies and how to use them successfully.

I have a deep understanding of the power of colour, moon phases, solar phases, astrological matters and other natural phenomenon. I am also very skilled in the use of altar tools and am attuned to the elements of air, earth, fire and water.

REVIEWS


FAQ

---
How to attract a Soul Mate to you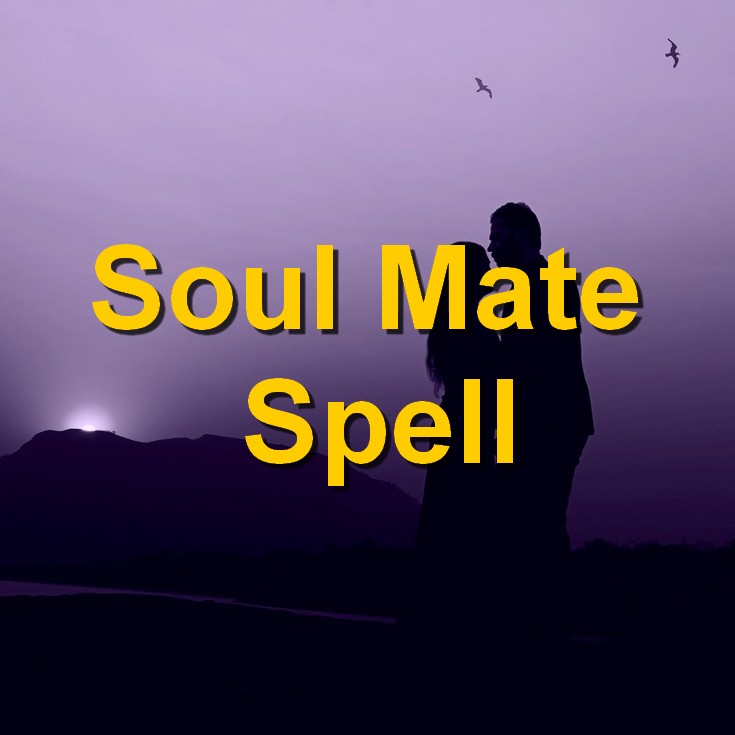 What is a Soul Mate?
A Soul Mate is someone you share a deep affinity with. You are completely compatible with a Soul Mate - sexually, spiritually and emotionally. A Soul Mate is your ideal partner, a twin flame or kindred spirit.

Many Soul Mates
Some people believe that we each have just one Soul Mate or kindred spirit. This twin flame is our perfect match. Well how do we find this one and only Soul Mate? Where in the world are they? What if you never get to meet them?
Well, I believe that we have many Soul Mates, not just one. You can find a kindred spirit Soul Mate half way across the world, in the country you live in, in another state or the city or town you live in. You can find a twin flame Soul Mate at a family social event, at a workplace, at school, on vacation, at a party, a concert, on a bus, in a store or absolutely anywhere in the world.
I believe that we can find "The One" and there are a number of Soul Mates out there for each and every one of us.
SINGLE CAST
SOUL MATE SPELL JUST $29.99

TRIPLE CAST
SOUL MATE SPELL JUST $49.99

FULL MOON TRIPLE CAST
SOUL MATE SPELL JUST $79.99
When purchasing this service from me you are assumed to have read my Terms and Conditions

After making payment Click Here to enter and submit your details on my Spell Details Form. You will be asked to provide:
Your name
Date of birth
Brief outline of desired outcome from the Spell
Once you have decided to have a Spell cast by me and I have all the details I need I will prepare to cast for you as soon as possible. I will send via email a full account of the Spell I will cast on your behalf.
Shared Past Lives
Most times we have crossed paths with our Soul Mates in previous lives. We may have shared a very close bond with a Soul Mate, perhaps not always as love partners. Close relationships such as mother and son, sister and brother, master and servant, teacher and pupil or good friends are the type of Soul Mate relationships found in past lives.
Most times, though, we have met our Soul Mates as lovers in past lives. These past lives love relationships may or may not have run smoothly. Perhaps we are destined to re–meet a Soul Mate we shared a loving and lasting relationship with and relive the happy times again. Or because of circumstances we may have been prevented from sharing a perfect love with a Soul Mate – Romeo and Juliet style, and we are given another chance to meet up with them.
The famous Psychic, Edgar Cayce believed, as I do, that we have a number of Soul Mates with whom we have incarnated before in past lives and with whom in this current life we can create a positive relationship. He advised to look out for the person who helps us be a better person. He maintained we would be instinctively drawn to souls we had known before, to complete unfinished business. Cayce believed the purpose of all relationships is spiritual development.
Manifesting a Soul Mate Relationship
So how do you attract a Soul Mate towards you?
Well there are certain steps you can take to manifest a Soul Mate and none better than to have a powerful Soul Mate Spell cast.  
Soul Mate Spell
There is no better way than Spell Casting to manifest a Soul Mate. It simply is the best method of getting your request of an ideal Soul Mate to be attracted to you, out to the Universe. So a Soul Mate Spell cast by me could really help with this.
I am a genuine Witch and experienced powerful Spell caster with amazing results. I have extensive expertise and experience and am well respected for my ethical approach to Spell casting.
My Spells cause harm to none, cannot backfire and do not force or bend the will of anyone. I work only in love and light and use only the positive form of White Magic. My Spells can only help and never hinder.

As soon as I have all the information I need from you I will begin preparations so that the positive energies can commence immediately.
Spell Casting Options
I offer 3 types of Spell casting options for any Spell I cast.
There are occasions when a Full Moon Triple Cast Spell is appropriate for your needs. This Spell is cast for 3 consecutive evenings commencing on the evening of the Full Moon. The energy for manifesting a Spell is greater at the time of a Full Moon, and so will break through any barriers or resistance easier. This option is perfect for complex, stubborn and difficult cases.
And you do not have to wait until the Full Moon as I will commence preparations now so that the positive energies can commence immediately.
The Triple Cast option should be considered when your situation is particularly complex. Also relevant where you have had Spells cast in the past which have not manifested as you would have hoped. This might mean that you feel that there is some particular resistance in the Universe against your specific wish. A triple casting, over 3 consecutive nights, will help overcome this.
The Single Cast Spell is a very powerful energy, and is appropriate and sufficient for almost all situations.
---
Preparation for Soul Mate Searching
The first step is to really love yourself - only then will you be worthy of any relationship, particularly a Soul Mate one.


Do self improvement exercises to increase your self-esteem and self confidence, if you need to.


Ensure you are the healthiest person you can be. Do not abuse your body. This means really looking after yourself by good nutrition and daily exercise and ridding any harmful habits. You don't have to be a super model or a hunky action hero – you just need to be in the best shape you can be. Anything less is disrespectful to your Soul Mate.


Ensure you are the happiest person you can be. Do this by doing things you love to do. Have as many friends as you are happy with. Do activities you love to do. Go to places that make you feel happy. Of course you may have duties, work or responsibilities that you need to do, but you must make time for things you want to do. Get your work-life balance right. All work and no play makes Jack (and Jill) a dull boy or girl. And you cannot expect your precious and special Soul Mate to be attracted to a dull person.


Don't forget like attracts like. If you are looking for a Soul Mate that has the qualities, values and personality traits of say honesty, generosity, kindness, compassion, warm heartedness, good sense of humour etc. then portray these same traits in yourself. If you portray the qualities you want to attract in yourself you naturally magnetise people with these same qualities toward you.


Be very clear in your own mind exactly what you want in a Soul Mate. Think about their physical characteristics, their personality traits, their values and qualities. Once you are clear, write them down. This forms your 'wish list'.


Allow your wish list to be released to the Universe. You can do this by prayer, affirmation or the best method of Spell casting. This ensures that the Universe is fully aware of what you want. Trust the Universe to provide you with what you want.


Once the Universe has received your request you need to be 100% confident that you will manifest a Soul Mate. Doubts you may have, send confusing messages to the Universe. This can block the energies needed to fulfil your desire. So never waiver in your belief that you will get what you truly want.


Now comes the time to take positive action. You will need to actively seek out your Soul Mate. Rarely will the Universe allow you to sit at home in front of the TV or computer screen and miraculously send a Soul Mate to your front door begging for your love. You will need to get out there and socialise. Trust your instincts and go with them. So if you suddenly get a feeling that you must attend an evening class to learn something you'd previously had no interest in, go with it. This is most likely where you'll bump into your Soul Mate. Or if you get an impulse to ring an old friend, you've not spoken to for ages, do so. They may have good news that they are throwing a party and want to invite you. And this is where you'll meet your Soul Mate. Or if you have a burning desire to help those less fortunate than yourself join a volunteer group. This could be the very place you meet your Soul Mate.

---
Did you love this page? Please share it with your friends!

The law requires me to state that the contents of this website are for entertainment purposes only.
Psychic, tarot and spell casting services cannot be a substitute for professional, legal,
medical, financial or psychiatric advice/care, where appropriate.
You must be at least 18 years old to make any purchase from me.

© Copyright All Original Content 2006 – 2017 Alizons-psychic-secrets.com. All Rights Reserved.
Reproduction in whole or in part without permission is not permitted.