Eight of Cups Meaning
---
Alizon - expert, experienced, skillful, knowledgeable...
The Power of Magic
If you have an interest in spirituality, are intrigued by astrology, fascinated by Tarot cards or captivated by Psychic abilities, then the next logical step is to look into the power of Magic.
Having a Spell Cast is Magic you can believe in.
Skeptical about Spells?

And even if you are slightly skeptical, uncertain or wary, powerful positive energies combined with expert Spell casting will soon have you convinced in the power of Magic. I ensure that my Spells are carefully crafted, use only positive energies and are cast expertly and effectively.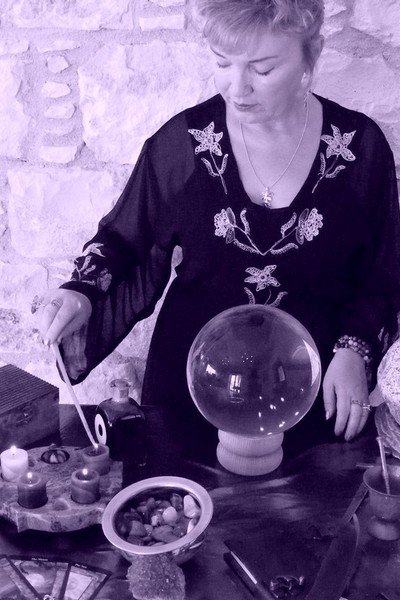 Pure White Magic
All my Spells that I cast cause harm to none. My Spells cannot backfire and do not force or bend the will of anyone. I work only in love and light and use only the positive form of White Magic.

Thousands of my clients have already benefited from the powerful Spells I have cast for them. Discover for yourself the secret power of Magic.
REVIEWS


---
Eight of Cups Meaning
The Eight of Cups Meaning is part of my Tarot Card Meanings series...

Today's feature is the Eight of Cups Tarot card. Here I'll be looking at the Eight of Cups meaning and what significance it has for you today.
The Eight of Cups meaning keywords are abandonment, breaking ties, disappointment, dissatisfaction, moving on.
The Eight of Cups meaning usually refers to disappointment and dissatisfaction. The level of this disappointment and dissatisfaction may be so strong that it leads one to abandon a relationship, a career, a business partnership, a neighbourhood or a project.
The Eight of Cups Tarot card can be interpreted as one of moving on and accepting that what is in the past should remain in the past.
The other Eight of Cups Tarot card meaning is that of rejecting a certain way of life. It can show a need to live a simpler, less complicated and less materialistic life. It can indicate a physical move to pastures new as well as a psychological shift in ideas, concepts and beliefs. It is the Tarot card of moving on from one way of life to a totally different one.
The Eight of Cups Tarot Card is a Minor Arcana Tarot card and as such is not as powerful and life changing as any of the Major Arcana cards such as the Death Tarot card, The Lovers Tarot card or the Magician Tarot card. However the Eight of Cups Tarot card can still have significance and can show it is time to move on.

Upright Eight of Cups Meaning
The upright Tarot card meaning of the Eight of Cups Tarot card for you today shows a need for assessment of your close personal relationships. Do they support, nurture, motivate and inspire you? If not, it may be time to look further afield and find someone who will.

Reversed Eight of Cups Meaning

The reversed Tarot card meaning of the Eight of Cups Tarot card can show that you may be experiencing loneliness. You may have been abandoned and are having a hard time coming to terms with facing life alone.
Another meaning of the reversed Eight of Cups Tarot card is that financial burdens are causing you a great deal of worry and anxiety. This in turn can lead to illness, depression and feeling run down. Address these issues as best you can and take time to look after your health.
The Eight of Cups Tarot card can often show a need for some love, luck and light to enter your life.
To allow this to happen as destiny has planned, you need to have a powerful Love Spell cast.

The use of Tarot Cards, their meanings and what they represent are very important in my  Magic Spell Casting to change destiny for the better!!!

---
The Magical Power of the Solar Eclipse
August 21 2017
The Solar Eclipse coincides with the New Moon on August 21 2017. Don't miss out on this powerful and potent time for Spell casting for new opportunities and fresh starts in luck, love, money and success!

Did you love this page? Please share it with your friends!

The law requires me to state that the contents of this website are for entertainment purposes only.
Psychic, tarot and spell casting services cannot be a substitute for professional, legal,
medical, financial or psychiatric advice/care, where appropriate.
You must be at least 18 years old to make any purchase from me.

© Copyright All Original Content 2006 – 2017 Alizons-psychic-secrets.com. All Rights Reserved.
Reproduction in whole or in part without permission is not permitted.