Clear Quartz Meaning

The Properties and Meaning of Clear Quartz Crystal

The Crystal Clear Quartz is part of my Crystal Meanings series...

This crystal gemstone helps people to be released from the past in order to 'move on'. It amplifies and transforms energy and as such is a very powerful tool for both healing and magical purposes.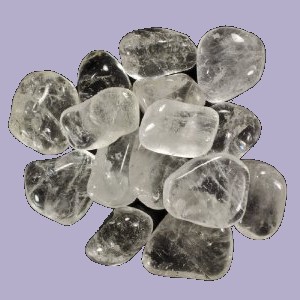 Magical purposes for use in rituals and Spell work associated with Clear Quartz are manifestation. It increases the power of anything that it is placed near to.
And thus is also helpful in recharging other stones, increasing the potency of herbs and enhancing all spell work. It amplifies all other magic workings.
Magical Crystal Meanings for Magic & Divination
This crystal gemstone is connected with all of the Elements of Fire, Air, Earth and Water and all the directions of South, East, North and West. The Fool Tarot card is also linked with this stone. 
Its other main usage for magical workings is in enhancing Psychic ability, Channelling and Scrying.
I use Clear Quartz in the Spells including my Love Spells and Money Spells
Having a Spell cast can bring miraculous results very swiftly and can literally change your destiny for the better.
If you have an interest in spirituality, are intrigued by astrology, fascinated by Tarot cards or captivated by Psychic abilities, then the next logical step is to look into the power of Magic.

Having a Spell cast is Magic you can believe in.

And even if you are slightly skeptical, uncertain or wary, powerful positive energies combined with expert Spell casting will soon have you convinced in the power of Magic.
Myth, Legend and Folklore

Almost every ancient culture has revered and valued Quartz. The ancient Greeks believed Quartz was actually water from the heavens that was frozen into eternal ice by the gods. The word 'crystal' derives from the Greek word "krystallos" meaning 'ice'.
In Australian Aboriginal mythology, Quartz is the most common substance identified with their mystical substance called maban. Maban is said to be the material from which wise men obtain their magical powers.
The Aborigines used the crystals to invoke rain, as did some Native American tribes.
A 'cure all' therapy practised by the ancient Celts was to place nine small Quartz crystals in water, bring to the boil and allow to cool. The enhanced water was to be drunk over nine consecutive days.
Healing Properties

Clear Quartz is linked with the Crown Chakra but may be used to amplify and align all Chakras.
This clear crystal can give physical help in treating vertigo, chronic fatigue; arthritis; fibromyalgia and intestinal problems.
It is also said to give general pain relief and improve strength and stamina.
Spiritual Properties
The Quartz Crystal is said to be the connection between the physical dimension and the dimensions of the mind and as such is ideal for meditation.
For meditation purposes it encourages focus and concentration. It is ideal for spiritual development and heightened consciousness.
This crystal is also an 'Angel Crystal' and helps you connect more powerfully to connect to your own Angels and Guides making communication with them easier.
This clear crystal is very good for finding clarity when making difficult decisions. If you have a choice to make, hold the crystal and focus upon it. It should guide you to make the correct decision.  

Scientific Information

Clear Quartz is any Quartz crystal or cluster that is clear in colour. Quartz is the most common mineral found on the face of the earth and occurs in all environments and all rock types - sedimentary, metamorphic or igneous. It has a hardness of 7.
It is found in many areas of the world but mainly in Africa, Brazil, and USA.

I use Crystals in my Magic Spell Casting to change destiny for the better!!!
Client Reviews


Christine from Stamford, Connecticut, USA

"Hi Alizon! Thank you for another GREAT Casino win! after casting me a Money Spell."
Thomas from Muir, Switzerland

"You cast a Money Spell for me. My turnover increased 70% during the last three months! You helped me in a great way."
Terrence from Sacramento, California USA
"I wanted to thank you for the Money Spell you cast for me. I have seen immediate results and look forward to the continuous positive energy. Blessings to you."
Alexa Aurora, Colorado USA
"Hi! Again, thank you for all your work on the Money Spell. There have been amazing positive energies flowing around my finances already."
Judith from Wrexham, North Wales, UK
"I just wanted to thank you for casting the Full Moon Triple Cast Love Spell from the bottom of my heart. I know the full moon can be powerful but I didn't expect such great results so soon."
Charles from Smithfield, Queensland, Australia
"Thank you so much for the amazing and fantastic extreme success you had in the Return Lover Spell you did. Within 24hrs my ex contacted me and wanted to see me straight away. I could not believe it. It was amazing."
Lynne from Topeka, Kansas, USA
"You cast an Attraction Spell for me. It took several weeks to work, but when it did, it worked like ... well like magic! I have found the most wonderful, perfect, man in the world for me!"
Graham from Dartmouth, Nova Scotia, Canada
"Just one word – UNBELIEVABLE!!! The reaction I got just days after you cast the Sex Spell was incredible."
Nina from Picton, NSW, Australia
"I just wanted to share with you the best news ever! Your Fertility Spell worked! I've waited so long for this to happen and I'm over the moon. Thank you so much Alizon."
Yvette from Singapore
"The Psychic Ability Spell you cast has begun to work. I can sense the connections with spirit much stronger than before. I have been more and more sensitive to other "beings" around me also."

---
The law requires me to state that the contents of this website are for entertainment purposes only.
Psychic, tarot and spell casting services cannot be a substitute for professional, legal,
medical, financial or psychiatric advice/care, where appropriate.
You must be at least 18 years old to make any purchase from me.

© Copyright All Original Content 2006 – 2017 Alizons-psychic-secrets.com. All Rights Reserved.
Reproduction in whole or in part without permission is not permitted.