The Ace of Wands Tarot Card…

The Coven Shop
To find powerful Magic Herbs and pure Essential Oils for your Spell Casting and Magic Rituals.
Click here
Will He Come Back?
Have you Lost a Love in Your Life? Ask Alizon to cast a Love Spell to bring him back to you.
Click here for details
Ancient Magic Talismans
Attract love, money, fame, fortune and more with a Spell Infused Talisman by Alizon. For more info on Talismans:
Click here
The Ace of Wands Tarot Card Page is from the Tarot Meanings section of Alizon's Psychic Secrets website. On this site you can find lots of information on Psychic matters, including the Tarot and Tarot Readings, Psychic Abilities, the 7 Secrets, Chakras, Colour meanings, Crystals, Herbal Lore, Wicca, Magic Spells and lots more…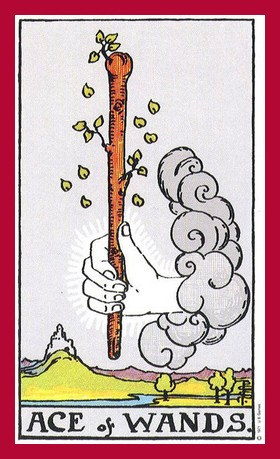 ACE OF WANDS
The Ace of Wands indicates the birth of an idea, a promotion or new job or business. It can also show any new venture or challenge including a marriage, pregnancy, the birth of a child or start of a passionate relationship.
Positive connotations associated with this card are creativity, originality, fertility, and new beginnings.
Negative connotations associated with this card are frustration, greed or foolhardiness.
The Wands are a fiery, passionate and creative suit. In the past this suit was associated with peasants and today it is still used to predict changes in work and creativity.
The Wand's direction is south; its element fire, its season summer and the astrological corresponding signs are Aries, Leo, and Sagittarius.
Key words associated with the suit of Wands are creativity, growth, ambition, expansion and ventures.
Ancient Magic Talismans
Attract love, money, fame, fortune and more with a Spell Infused Talisman by Alizon. For more info on Talismans:
Click here
Lucky Charms
Very Powerful Protective Lucky Charms Spell Infused and Blessed by Alizon.
Click here for details
Magic Herbs
Visit the Coven Shop to find powerful Magic Herbs and pure Essential Oils for effective Spell Casting.
Click here
---
Getting a Tarot Reading



You can get a full professional and personal Psychic Tarot Reading from me, Alizon.
For more information CLICK HERE.

Learn the Tarot



Learn how to conduct your own Tarot Readings, for fun or for profit, with my professional standard certificated Tarot Reading Course CLICK HERE.
Back to Tarot Card Meanings
---