Ace of Cups Tarot Card 
---
Alizon - expert, experienced, skillful, knowledgeable...

The History of Spell Casting
Through the ages and within every culture older wise women have passed down their knowledge and skills of healing herbs, medicinal plants, phases of the moon and sun, the alignment of the stars and other natural phenomenon to younger generations.  

The crafting of ingredients, coupled with prayers, rhymes or chants (Spells) were sent out to the Universe to increase abundance, to bring love, to aid fertility and for protection.

I possess the knowledge, skill, expertise and experience to successfully cast Spells that work with the Universe to help you with your desires.

I am an experienced Spell caster of 40 years and have a wide knowledge of herbs, oils, crystals and other ingredients, their qualities, their energies and how to use them successfully.

I have a deep understanding of the power of colour, moon phases, solar phases, astrological matters and other natural phenomenon. I am also very skilled in the use of altar tools and am attuned to the elements of air, earth, fire and water.

REVIEWS


FAQ

---
The Interpretation and Meaning of the Ace of Cups
The Ace of Cups is part of my Tarot Card Meanings series...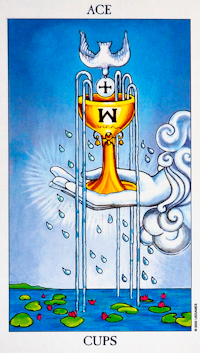 The Ace of Cups Tarot card is the first number card in the suit of Cups in the Tarot. This card is one of the Minor Arcana cards.
The Ace of Cups Tarot card meaning usually relates to love, emotion, intuition and intimacy. As with all the aces in the Tarot the Ace of Cups offers new beginnings and fresh starts and in the case of the suit of Cups is related to love, strong emotions and feelings.
The Ace of Cups can be a very positive one in Tarot Readings and shows that you will feel emotionally receptive to new love, whether this be via a new love interest, a birth of a child or discovery of self love. It offers new beginnings and fresh starts related to love, strong emotions and feelings.
Love
When the Ace of Cups appears in Tarot Readings concerned with love and romance it usually indicates a new romance. This could turn out to be a true soul mate connection. If you are already within an existing relationship this card can show a fresh start or new beginning for the relationship with changes for the better.

Career

The Tarot card meaning for questions concerning career or business in Tarot Readings often represents finding your dream job or gaining the position or promotion you have longed for.
 
For business this card is an excellent omen and can indicate a fresh start and new lease of life.

Money

The Ace of Cups Tarot card meaning for questions related to money and finance usually relates to the possibility of finding new and fulfilling ways to increase your income. This should make you feel good.
Health

When the Ace of Cups appears in Tarot Readings concerning health and well being it can show new and fresh ways to improve your health and fitness. You should be feeling good about yourself and consequently have more confidence and self esteem.
This card can also indicate a pregnancy.

General

If the Ace of Cups is prominent in a Tarot Spread it can indicate internally an increase in spirituality, a growing intuition, psychic abilities and feelings of inner beauty. Externally this card can show an offer being made, a gift being given or the beginnings of a meaningful relationship.

The Suit of Cups

The Suit of Cups is connected with emotions, feelings and relationships.
It belongs to the element of Water, the colour blue, the season of spring, the direction of west and the timing of dawn. The astrological corresponding sun signs are Cancer, Scorpio and Pisces.
The key words connected with the suit of Cups include affection, calmness; care giving, diplomacy, empathy, gentleness, imagination, intuition, love, peace, romance, sensitivity and spiritual.

I use Tarot cards from the Suit of Cups in my Love Spell casting for love, romance, soul mate attraction, commitment and reuniting manifestation. 
If you want to change your destiny for the better then use the power of Magic Spell Casting to make things happen!!!

Did you love this page? Please share it with your friends!

The law requires me to state that the contents of this website are for entertainment purposes only.
Psychic, tarot and spell casting services cannot be a substitute for professional, legal,
medical, financial or psychiatric advice/care, where appropriate.
You must be at least 18 years old to make any purchase from me.

© Copyright All Original Content 2006 – 2017 Alizons-psychic-secrets.com. All Rights Reserved.
Reproduction in whole or in part without permission is not permitted.