The Ace of Cups Tarot Card…
The Ace of Cups Tarot Card Page is from the Tarot Meanings section of Alizon's Psychic Secrets website. On this site you can find lots of information on Psychic matters, including the Tarot and Tarot Readings, Psychic Abilities, the 7 Secrets, Chakras, Colour meanings, Crystals, Herbal Lore, Wicca, Magic Spells and lots more…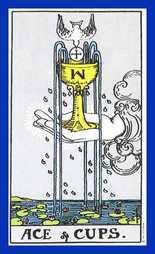 ACE OF CUPS
The Ace Of Cups indicates internally spirituality, a growing intuition, psychic abilities and feelings of inner beauty. Externally this card can show an offer being made, the beginnings of a meaningful relationship or a gift being given.
As with all the aces in the Tarot the Ace of Cups offers new beginnings and fresh starts and in the case of the suit of Cups is related to love, strong emotions and feelings. This could mean for you a new relationship, the birth of a baby or the start of any project that is emotionally satisfying.
Positive connotations associated with this card are contentment, faithfulness, and creativity.
Negative connotations associated with this card are lost love, rejection and despair.
The Cups are thought to point to changes in one's emotional life or in relationships.
They indicate emotional states and responses, the emotional elements and spiritual experience in our lives, affairs of the heart, love and relationships.
The Cups direction is west; its element water, its season spring and the astrological corresponding signs are Cancer, Scorpio and Pisces.
Key words associated with the suit of Cups are intuition, emotions, love and relationships.
---
Getting a Tarot Reading



You can get a full professional and personal Psychic Tarot Reading from me, Alizon.
For more information CLICK HERE.

Learn the Tarot



Learn how to conduct your own Tarot Readings, for fun or for profit, with my professional standard certificated Tarot Reading Course CLICK HERE.
Back to Tarot Card Meanings
---