Psychic Readings

Here I offer Psychic Readings conducted by personally by me, Alizon.
Psychic Readings are a way of getting answers to questions and for general divination. A  Reading can help clarify decisions you need to make or point you in the right direction on your life journey.
About Me
My name is Alizon. I am a mother, grandmother and consider myself a wise woman. I am a successful, professional Psychic and Tarot Reader with many years experience in giving professional advice to countless clients, and have become one of the leading Psychics.
I have used my gifts to help many, many satisfied clients. I am well skilled with several forms of divination techniques I have Celebrity clients who seek my guidance.

I always work in an ethical, professional and customer focused way to ensure my clients are happy with the service I provide.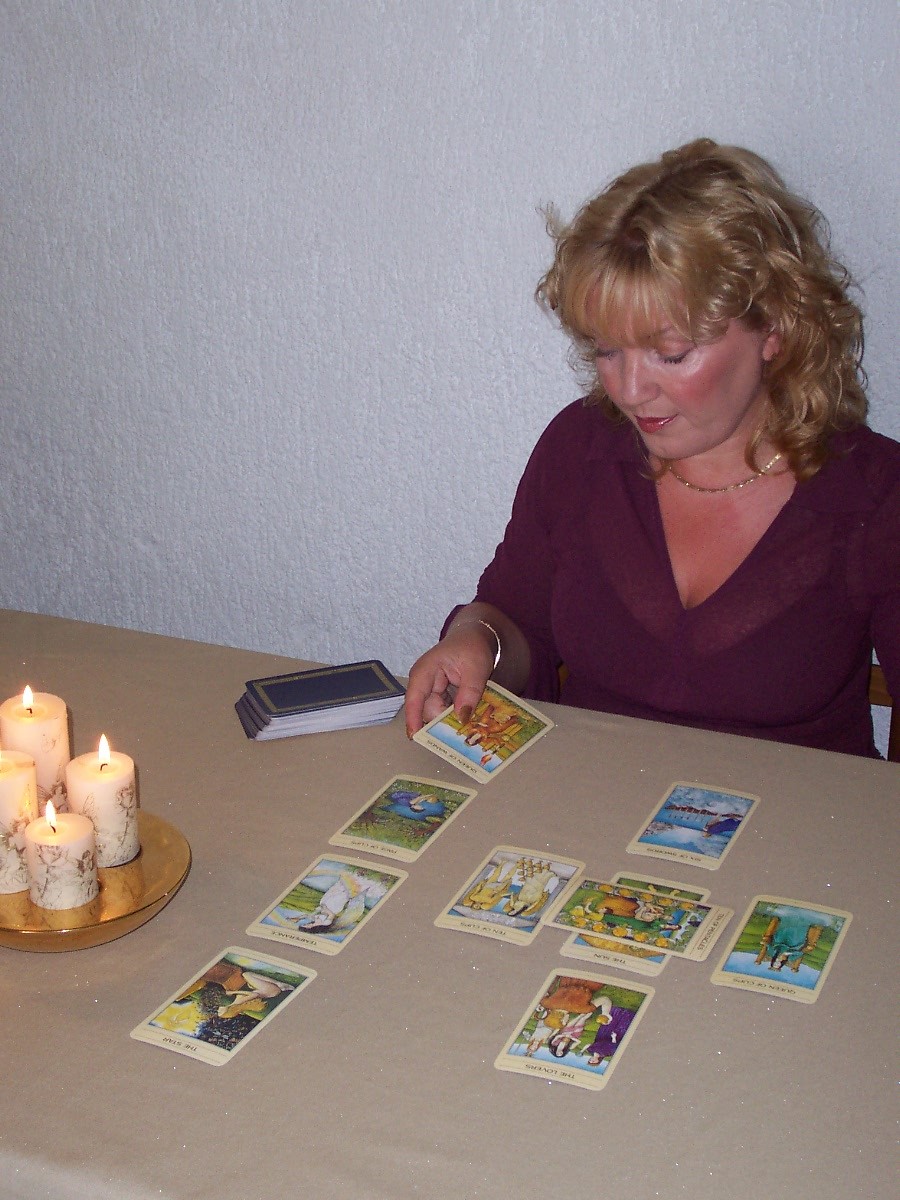 Alizon Conducting Psychic Readings
I have given and continue to give clarification, advice, guidance, inspiration and motivation to thousands of satisfied clients.

I can read Auras and with Minoan Healing Energy I can cleanse any negative energy and blemishes within an Aura.
 
I am a highly skilled Tarot Master and have taught many people the art of Tarot Reading via my Psychic Tarot Course.

My spiritual interests include the meaning and energy of crystals, the meaning of colours, astrology, numerology and energy healing.

What I can do for you
I offer clear and concise, accurate, down to earth, inspiring Psychic Readings that aim to guide, clarify, motivate and empower you to make the right decisions.
 
With my spiritual tools of Runes and or the Tarot I interpret your past, present and future with accuracy. I often use my Crystal Ball in my Psychic Readings which allows me to connect with the Spirit Realm.

I am able to quickly connect with your Psychic energy and attune to your vibrational energies which lead to clear and direct attunement.  
Psychic Readings given personally by me, Alizon, can help YOU find the answers you need to shape your future. My Psychic Tarot Readings are personal and confidential and are performed with sensitivity and care by myself. I will focus on your psychic energy use my connection with Spirit and the Tarot to guide you.

As a Witch I am a natural Psychic and can foretell futures through divination methods such as the Tarot, Runes, Crystals, etc. But I also hold within me a Magical Power that allows me to share with my clients the ability to deactivate negative energies, which in turn helps them avoid future problems, overcome obstacles and reach life's fullest potential. A Psychic Tarot Reading from me therefore is charged with Magical intent, power and positive elements.

Psychic Services I offer

I offer Psychic advice on Love and Relationships, Career, Family Matters, Well Being, Destiny Guidance and more. Whatever direction you need to go in I can help you.

My Gifts
I am Clairaudient, Clairsentient and Clairvoyant.
 
The Tools I use
Tarot Cards, Crystal Ball Scrying, Runes, Astrology, Numerology.

Positive energy is very important if you are to live an abundant and prosperous life and build up good karma. A great way to do this is by undertaking some charity work.   

The Psychic Readings I offer
At this time I offer only email Psychic Tarot Readings. I do not conduct telephone Readings or live message Readings.
The email Reading I will send to you covers many aspects and MAY or MAY NOT answer specific questions you have in your mind.

The Psychic Tarot Readings I offer are general Readings and I do not want or need any specific questions from you. All I need is your full name and date of birth.

If you want specific questions answered please do not use my service.

The vast majority of my time and energy is spent on my Spell Casting Services. I am always in high demand because of my success rates.

So due to time and energy restrictions, I need to carefully control and limit the number of Readings I offer. So if you want to be one of the lucky few, please make your payment now.

In my email Readings with my clients I encourage them to look within themselves for their own answers. I work in this way as I have found over many years that despite any answers, direction and guidance given in a Psychic Reading it is ultimately up to the individual to make the final decisions to direct their future.
(I'M SORRY I CANNOT OFFER FOLLOW-UP OR ANSWER QUESTIONS RELATED TO YOUR READING.)

Your First Initial Reading From Me

FIRST READING
From Me
JUST $85.00
Your first $85.00 Reading from me.
(Some of my clients may have received Readings from me from many years ago. If this applies to you please treat this as your first Reading.)
After making payment please complete the form here.
When purchasing this service from me you are assumed to have read my Terms and Conditions
---
Additional Readings From Me

ADDITIONAL READING
From Me
JUST $50.00
Additional Readings from me. 
These additional Readings are less expensive because I will have already connected with you Psychically in your first initial Reading.

Select this option ONLY if you have previously had a first Reading from me.
After making payment please complete the form here.
When purchasing this service from me you are assumed to have read my Terms and Conditions
---