Power Bracelet
Power Bracelet
The amazing power bracelet is created from genuine green Aventurine crystal which is the luckiest of stones and attracts wealth, prosperity and good luck. The colour green is considered to be powerfully attracting of good luck and connects with the Heart Chakra making it perfect for both attraction of wealth and attraction of love.

The powerful Aventurine crystal derives its name from the Italian phrase 'per aventura' meaning 'by chance.' And it is its associations with luck and chance that it is most famed. Aventurine is known to increase opportunity, luck, abundance (particularly financial), healing and purifying.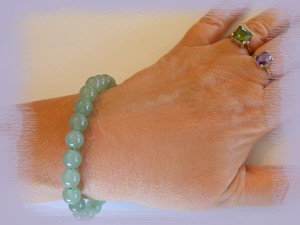 Unlike the silicone, manmade balance bracelets you can buy the amazing energy drawn from natural crystals is so powerful. Aventurine and the colour green are connected to the element of Earth and as such allow your personal energy flow to be aligned to powerful aura cleansing energies.

If your wish is for abundant wealth, loving relationships and a need for change or growth or freedom to pursue new ideas then this is the perfect positive energy bracelet for you.

Power Bracelet
 ONLY $24.99

VERY IMPORTANT
I can only ship items to the United States and United Kingdom. If you are not in these countries you will be refunded if you have made payment.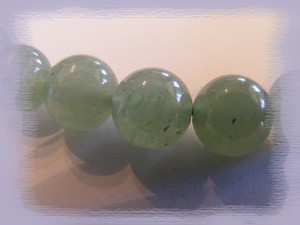 Each bead that makes up the energy bracelet has a balance of magically imbued positive energy. I Magic Spell infuse and ritually bless each power bracelet tailor made for your personal requirements - thus transforming it into a magic bracelet that is very attracting of good luck, positive energy and protection.
I personally charm each bracelet under the light of a full moon which amplifies the balance of positive energies allowing each wish you make to have the very best chance to manifest with amazing results.  
And because this bracelet is created from powerful Aventurine and worn as a energy bracelet around the wrist it can soak up and eliminate any electromagnetic pollution and radiation emanated by using cell phones or other electronic equipment.
Because you'll want to get the most from your magic bracelet it is best worn on the wrist of your dominant hand.
The bracelet measures 7.5 inches.

Make your wish come true and act now to allow the magic to commence...

How to maximise the powerful energy of your Power Bracelet
Once you receive your very own magic bracelet you need to take a little time to bond with it. Wear it each day. When you wear it regularly your energies blend with your bracelet which allows it to become a part of your aura. This creates a connection between you and the crystal properties of the Aventurine, which in turn allows you to draw towards you positive energies.  

---
Sharing is Caring! Please share it with your friends!

REVIEWS
The law requires me to state that the contents of this website are for entertainment purposes only.
Psychic, tarot and spell casting services cannot be a substitute for professional, legal,
medical, financial or psychiatric advice/care, where appropriate.
You must be at least 18 years old to make any purchase from me.

© Copyright All Original Content 2006 – 2021 Alizons-psychic-secrets.com. All Rights Reserved.
Reproduction in whole or in part without permission is not permitted.