Pentagram Pendant for Protection
---
Pentagram Lucky Charm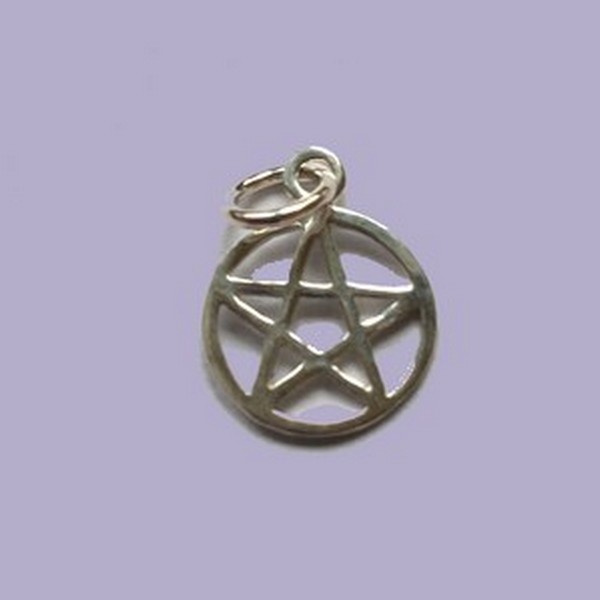 NOT ACTUAL SIZE
$25
FREE POSTAGE
The five pointed star known as a Pentacle, when encircled becomes a Pentagram. This ancient symbol represents the powerful elements of air, earth, fire, water and Spirit. Wearing or carrying a Pentagram is very protective and will bring good luck to the wearer.
Sterling Silver pentagram charm size approximately 16mm (inc. loop).

Sterling Silver Protective Pentagram Lucky Charm

I am delighted to offer you this gorgeous little Pentagram pendant in Sterling Silver.

It is approximately 16mm in diameter. This protective and powerful Pentagram pendant  will be mailed to you cleansed and charged with powerful Full Moon Energy for Love, Light, Luck and Protection.

The Pentagram symbol encircles the 5 pointed Pentacle and represents the five elements used in powerful White Magic - Earth, Air, Fire, Water and Spirit. The Pentacle is a powerful symbol of Light and a talisman of Protection. The Pentagram, which is an encircled Pentacle symbolises infinity and eternity, without beginning or end.

The pendant is made of solid sterling silver. Silver is of course associated with powerful Moon Energy and is sacred to the Moon and to all Moon Goddesses, such as Artemis, Diana, Isis, Chang O, Hecate, Cerridwen and Selene. Wearing silver is said to aid psychic ability of the bearer and carries energies that are very attracting of health, wealth and happiness. Silver is a very attracting of positive energy and repellent of negative energy.
Not only does this delightful, delicate and decorative piece of jewellery look stunning it also has the added benefits of being charmed by me Alizon, experienced and expert White Witch, personally for you. I use only pure and positive energies in love and light, with harm to none. Your Pentagram will be your personal lucky charm, attracting positive energies and repelling negative ones and giving you constant and continual protection.
Once I have received payment and your details I will send your lucky charm Pentagram Pendant to your given mail address.

---
Alizon Psychic Reviews
REVIEWS


FAQ
Did you love this page? Please share it with your friends!

The law requires me to state that the contents of this website are for entertainment purposes only.
Psychic, tarot and spell casting services cannot be a substitute for professional, legal,
medical, financial or psychiatric advice/care, where appropriate.
You must be at least 18 years old to make any purchase from me.

© Copyright All Original Content 2006 – 2019 Alizons-psychic-secrets.com. All Rights Reserved.
Reproduction in whole or in part without permission is not permitted.