Power Bracelet
The amazing power bracelet is created from genuine green Aventurine crystal which is the luckiest of stones and attracts wealth, prosperity and good luck. The colour green is considered to be powerfully attracting of good luck and connects with the Heart Chakra making it perfect for both attraction of wealth and attraction of love.

The powerful Aventurine crystal derives its name from the Italian phrase 'per aventura' meaning 'by chance.' And it is its associations with luck and chance that it is most famed. Aventurine is known to increase opportunity, luck, abundance (particularly financial), healing and purifying.
Unlike the silicone, manmade balance bracelets you can buy the amazing energy drawn from natural crystals is so powerful. Aventurine and the colour green are connected to the element of Earth and as such allow your personal energy flow to be aligned to powerful aura cleansing energies.

If your wish is for abundant wealth, loving relationships and a need for change or growth or freedom to pursue new ideas then this is the perfect positive energy bracelet for you.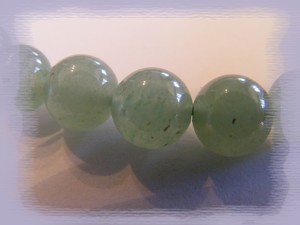 Each bead that makes up the energy bracelet has a balance of magically imbued positive energy. I Magic Spell infuse and ritually bless each power bracelet tailor made for your personal requirements - thus transforming it into a magic bracelet that is very attracting of good luck, positive energy and protection.
I personally charm each bracelet under the light of a full moon which amplifies the balance of positive energies allowing each wish you make to have the very best chance to manifest with amazing results.  
And because a power bracelet is created from powerful Aventurine and worn as a energy bracelet around the wrist it can soak up and eliminate any electromagnetic pollution and radiation emanated by using cell phones or other electronic equipment.
Because you'll want to get the most from your magic bracelet it is best worn on the wrist of your dominant hand.
I have two sizes of bracelet – medium which measures 7.5 inches and large which measure 8.5 inches.
Make your wish come true and act now to allow the magic to commence...

How to maximise the powerful energy of your Power Bracelet
Once you receive your very own magic bracelet you need to take a little time to bond with it. Wear it each day. When you wear it regularly your energies blend with your bracelet which allows it to become a part of your aura. This creates a connection between you and the crystal properties of the Aventurine, which in turn allows you to draw towards you positive energies.  

Power Bracelet
 ONLY $24.99


Medium 7.5 inches
JUST $24.99

Large 8.5 inches
JUST $24.99
---
Client Reviews


Christine from Stamford, Connecticut, USA

"Hi Alizon! Thank you for another GREAT Casino win! after casting me a Money Spell."
Thomas from Muir, Switzerland

"You cast a Money Spell for me. My turnover increased 70% during the last three months! You helped me in a great way."
Terrence from Sacramento, California USA
"I wanted to thank you for the Money Spell you cast for me. I have seen immediate results and look forward to the continuous positive energy. Blessings to you."
Alexa Aurora, Colorado USA
"Hi! Again, thank you for all your work on the Money Spell. There have been amazing positive energies flowing around my finances already."
Judith from Wrexham, North Wales, UK
"I just wanted to thank you for casting the Full Moon Triple Cast Love Spell from the bottom of my heart. I know the full moon can be powerful but I didn't expect such great results so soon."
Charles from Smithfield, Queensland, Australia
"Thank you so much for the amazing and fantastic extreme success you had in the Return Lover Spell you did. Within 24hrs my ex contacted me and wanted to see me straight away. I could not believe it. It was amazing."
Lynne from Topeka, Kansas, USA
"You cast an Attraction Spell for me. It took several weeks to work, but when it did, it worked like ... well like magic! I have found the most wonderful, perfect, man in the world for me!"
Graham from Dartmouth, Nova Scotia, Canada
"Just one word – UNBELIEVABLE!!! The reaction I got just days after you cast the Sex Spell was incredible."
Nina from Picton, NSW, Australia
"I just wanted to share with you the best news ever! Your Fertility Spell worked! I've waited so long for this to happen and I'm over the moon. Thank you so much Alizon."
Yvette from Singapore
"The Psychic Ability Spell you cast has begun to work. I can sense the connections with spirit much stronger than before. I have been more and more sensitive to other "beings" around me also."

The law requires me to state that the contents of this website are for entertainment purposes only.
Psychic, tarot and spell casting services cannot be a substitute for professional, legal,
medical, financial or psychiatric advice/care, where appropriate.
You must be at least 18 years old to make any purchase from me.

© Copyright All Original Content 2006 – 2017 Alizons-psychic-secrets.com. All Rights Reserved.
Reproduction in whole or in part without permission is not permitted.