Lucky Charms
---
Alizon - expert, experienced, skillful, knowledgeable...
The Power of Magic
If you have an interest in spirituality, are intrigued by astrology, fascinated by Tarot cards or captivated by Psychic abilities, then the next logical step is to look into the power of Magic.
Having a Spell Cast is Magic you can believe in.
Are you a Pisces?
Discover how an Pisces Spell can transform your life.

Lucky Charms for Good Luck

Lucky charms have used to ward off evil, for protection and to bring good luck. For many centuries people from all different cultures and ancient civilizations have used good luck charms to ward off evil, for protection and to bring good luck. But do they work?
Well, I have to say, I firmly believe they do. I believe that carrying a good luck charm is a tangible and physical representative of aligning to the powerful Law of Attraction. The Law of Attraction in simple terms explains that we draw towards ourselves positive energies if we think, act and are positive people.
Skeptical about Spells?

Even if you are slightly skeptical, uncertain or wary, powerful positive energies combined with expert Spell casting will soon have you convinced in the power of Magic. I ensure that my Spells are carefully crafted, use only positive energies and are cast expertly and effectively.
Pure White Magic
All my Spells that I cast cause harm to none. My Spells cannot backfire and do not force or bend the will of anyone. I work only in love and light and use only the positive form of White Magic.

Thousands of my clients have already benefited from the powerful Spells I have cast for them. Discover for yourself the secret power of Magic.
If you've ever wondered why some people seem to have all the luck in the world whereas others seem to lurch from one period of bad luck to the next, taking one step forward and three steps back. The answer could be a simple good luck charm.
Different cultures all seem to have their own favourite lucky charm. The Irish consider the Shamrock as a good luck charm, whereas the Scots claim Heather as lucky. Both the Turks and the Greeks agree that a blue bead with an eye marking upon it wards off the Evil Eve and curses. The Chinese have lucky coins.
The hidden powers of good luck amulets such as horseshoes, rabbit's feet and lucky pennies could well bring you wealth, good health and happiness.
Here are just a few of the more recognisable Good Luck Charms:
Horseshoes
The most recognisable symbol of good luck is that of the Horseshoe. Placed upright, on a front door it is believed to allow good luck to enter your home.
Shamrock
The three leafed clover of the Shamrock symbolises not only the Holy Trinity but also health, wealth and happiness. The 'luck of the Irish' has always been associated with the wearing of the Shamrock.
Acorn
The Acorn is of course the nut of the Oak tree. Carrying a fallen Acorn is believed to ensure youthfulness to the owner and can attract both wealth and love.
Heather
Lucky heather, worn in the lapel, particularly purchased from a Gypsy, is said to bring good luck and health to the wearer.
Evil Eye Protection
The Evil Eye, usually inadvertently placed upon someone, can lead to bad luck, illness, loss of wealth and loss of sexual libido. Carrying or wearing a blue coloured bead with an eye upon it helps protect against the Evil Eye.
Pentagram
The five pointed star known as a Pentacle, when encircled becomes a Pentagram. This ancient symbol represents the powerful elements of air, earth, fire, water and Spirit. Wearing a Pentagram is very protective and will bring good lucky to the wearer.
Spirals
The spiral represents positive energy radiating outwards. It is an ancient symbol that has a positive meaning for every culture and civilization that used it.
Your chance to get your very own good luck charm to have constant and continual good luck!

Lucky Charm
Only $30.00
Free Postage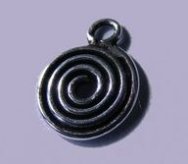 Lucky Charm
(not actual size)

Due to continued great results with my Spell casting and requests from my many clients to provide something physical, magical and tangible that can be carried or held close I have made available this very powerful good luck charm.

The spiral represents positive energy radiating outwards. You can make the most of the very positive energy exuded by the spiral in the form of a Sterling Silver Lucky Charm.

Silver is of course associated with the powerful Moon Energy and is sacred to the Moon and to all Moon Goddesses, such as Artemis, Diana, Isis, Chang O, Hecate, Cerridwen and Selene. Wearing silver is said to aid psychic ability of the bearer and carries energies that are very attracting of health, wealth and happiness. Silver is a very attracting of positive energy and repellent of negative energy.

Traditionally used to protect and ward of curses and bad luck this good luck charm can be carried, worn or attached to all manner of things.

The 'luck' part to these charms are that they come blessed and Spell infused by me, Alizon, a genuine White Witch.
Because of the tremendous amount of time and energy to magically and powerfully infuse each individual lucky charm for full potency I am forced to limit their availability. So if you feel you are destined to be the possessor of this good luck charm and benefit from its power you need to order it now.

Spell Infused

The Lucky Charm has been infused with a Spell and is very potent and is only performed on the Full Moon.

The good luck charm has been ritually blessed, fully charged, energised by positive magical energy and Spell infused with a Magic Spell that governs all facets of abundance, prosperity and positive energies.

It encompasses all luck and good fortune situations and can be used to draw to you wealth, love, good luck and happiness from many sources; gambling luck, windfalls etc. as well as business/career success, love, fertility or any aspects of your life where you feel you need extra luck.
If you are very Psychic yourself you will feel this energy and power just looking at the picture of the Lucky Charm.

As possessor of your good luck charm you may experience feelings ranging from slight warmth or tingling to extreme psychic exhilarating energy similar to an orgasm!

The Lucky Charms are VERY tiny (7mm).

Protective Positive Energy

This extraordinary life force energy used to bless the Lucky Charm is a healing, protective and positive energy. It heals, protects and in accordance with the Law of Attraction draws towards you positive elements.

By becoming the owner of this good luck charm the imbued energy is allowed to move through your personal energy field and charge it with positive energy. In doing so, it will raise the vibratory level of your energy and hopefully cause any negative elements, thoughts and feelings to break away.

Once you become attuned to this ancient energy source, by carrying and holding your good luck charm you can begin to live the life you want. This can mean having abundant wealth, strong and vibrant health and real happiness in the form of loving relationships. Quite simply – everything your heart desires!

Increased Psychic Ability

The Protective Lucky Charm will immediately increase your psychic sensitivities and abilities – whatever your starting point. If you are already intensely attuned psychically then this will deepen and strengthen your connection. If you feel you have little or no psychic abilities then carrying and holding the Protective Lucky Charm should develop them.

This will allow you to always make the right decision at the right time and in the right way. This relates to all aspects of your life – money, career, health choices, relationships, love.

Be Lucky! - Order today!

Lucky Charm
Only $30.00
Free Postage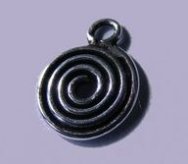 Lucky Charm
(not actual size)

The Lucky Charm helps you create an energy aura of success that draws towards you opportunities and good luck. You align yourself with the intention that you can and will live the life you most desire with harm to none.

You remove negative energies that cause you to sabotage your efforts with money management, career goals and love relationships. In their place you draw towards yourself positive energies and become more capable of manifesting all the things you want in your life.

By receiving one of the blessed & fully charged Lucky Charms you will begin to learn how to use energies to help yourself. By having the ability to be in the right place at the right time, by pulling towards you positive elements, people and circumstances, by visualising and manifesting goals and by drawing on Ancient Wisdoms in the form of Universal Laws, you can have all you want and need, whenever you want and need it.

By choosing now to become the owner of a Spiral Lucky Charm you will begin to take the first steps to life changing possibilities. If you choose to become the owner of this Lucky Charm you will begin to see your life change in very special and magical ways. Not only will you become more psychic and more intuitively sensitive to others, you will notice over time that you suddenly attract whatever your heart desires!

No matter who, what or where you are or your starting point on the road to health, wealth and happiness, you can achieve all you desire by acting now by becoming the owner of this blessed and fully charged Lucky Charm.
Positive energy is very important if you are to live an abundant and prosperous life and build up good karma. A great way to do this is by undertaking some charity work.   

---
REVIEWS


FAQ
Did you love this page? Please share it with your friends!

The law requires me to state that the contents of this website are for entertainment purposes only.
Psychic, tarot and spell casting services cannot be a substitute for professional, legal,
medical, financial or psychiatric advice/care, where appropriate.
You must be at least 18 years old to make any purchase from me.

© Copyright All Original Content 2006 – 2018 Alizons-psychic-secrets.com. All Rights Reserved.
Reproduction in whole or in part without permission is not permitted.