Venus

---
Alizon - expert, experienced, skillful, knowledgeable...
The Power of Magic
If you have an interest in spirituality, are intrigued by astrology, fascinated by Tarot cards or captivated by Psychic abilities, then the next logical step is to look into the power of Magic.
Having a Spell Cast is Magic you can believe in.
Are you a Cancer?
The Goddess Venus

Venus was the the Roman goddess of love, beauty, sex, fertility and desire. Her Grecian counterpart was the goddess Aphrodite.
In Roman mythology she was revered as a powerful goddess of love and seduction and encapsulated  feminine charms.
Like the Greek goddess Aphrodite, she embodies female sexuality, fertility and love and sometimes prostitution.

The cult of Venus was very popular with ancient Romans and many shrines and temples were erected to honour her. Many spring festivals celebrating fertility, rebirth and protection were aligned to this Roman goddess of love.
On the first of April a festival was held to honour her and later on the 23rd April a wine festival which was for her and also Jupiter was held. 
The painting The Birth of Venus by Sandro Botticelli is perhaps the most recognisable depiction of this Roman goddess in his famous work of art. The painting portrays the goddess naked on a seashell on the shore. She was born from the sea foam, the sky and the land.

Also in the painting is Zephyr, god of the west wind, along with Aura who are depicted blowing a gentle breeze and showering her tussled hair with roses. One of the Three Graces, adorned in roses and myrtle also welcomes the new goddess to the seashore and the violet covered meadow. 

Violets, roses and myrtle are all known to be used in love potions and love Spells. 
Goddess Tarot Lovers Card

The beautifully presented Goddess Tarot deck is designed, illustrated, and written by the very talented author and artist Kris Waldherr.
She depicts the Lovers Tarot card as the personification of the goddess Venus. Her talented design shows a beautiful blonde wearing a silky red gown with pink roses.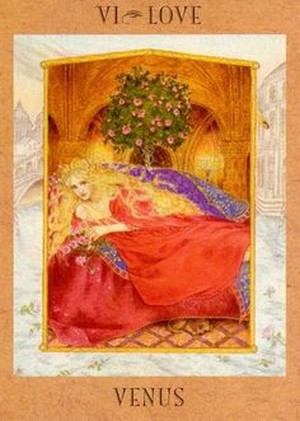 The Lovers Tarot card meaning is a representative of love and the harmonisation of opposites. Two halves coming together to form one whole. Two is an important number to bear in mind particularly when referring to love relationships. If there is a love triangle involving a couple and one more person or a couple and a destructive entity such as jealousy, drugs or alcohol, mental illness or betrayal then it is doomed to failure.

The Lovers card in a Tarot Reading can also be a message of self-love. If you yourself are not whole and complete with feelings of insecurity, low self-esteem and concentrating on your perceived faults, you cannot expect a partner to complete your incomplete half perfectly.
If you are having difficulties in your relationship then think seriously about having a Love Spell cast.

Expert Love Spell Casting of Spells That Work

If you want or need professional and expert help then I can help you.
This is your opportunity to have me; Alizon, White Witch and Spell caster personally cast your own powerful Spell.

My Spells are cast in love and light, with harm to none and do not bend the will of anyone. In this way you can be assured that all positive ways to allow you your heart's desire are sought out.
Spells that work with the Law of Attraction are known to be very powerful and enable your wish or desire to be sent to the Universe swiftly and effectively.
I also offer a Free Spell in the form of a Cleansing Spell to remove any negative energies that may be surrounding you. This helps purify and cleanse your aura making you open and ready to receive positive energies and your heart's desire.
Having a Spell cast can bring miraculous results very swiftly and can literally change your destiny for the better.
If you have an interest in spirituality, are intrigued by astrology, fascinated by Tarot cards or captivated by Psychic abilities, then the next logical step is to look into the power of Magic.

Having a Spell cast is Magic you can believe in.

And even if you are slightly skeptical, uncertain or wary, powerful positive energies combined with expert Spell casting will soon have you convinced in the power of Magic.
---
REVIEWS


FAQ
Did you love this page? Please share it with your friends!

The law requires me to state that the contents of this website are for entertainment purposes only.
Psychic, tarot and spell casting services cannot be a substitute for professional, legal,
medical, financial or psychiatric advice/care, where appropriate.
You must be at least 18 years old to make any purchase from me.

© Copyright All Original Content 2006 – 2018 Alizons-psychic-secrets.com. All Rights Reserved.
Reproduction in whole or in part without permission is not permitted.