Tarot Course
Most Popular Spells
---
This is an easy to learn Tarot Course.

You do not need to know anything about the Tarot Cards beforehand to become a good Tarot Reader if you take this easy to learn Tarot Reading course.


Easy to Learn Tarot Course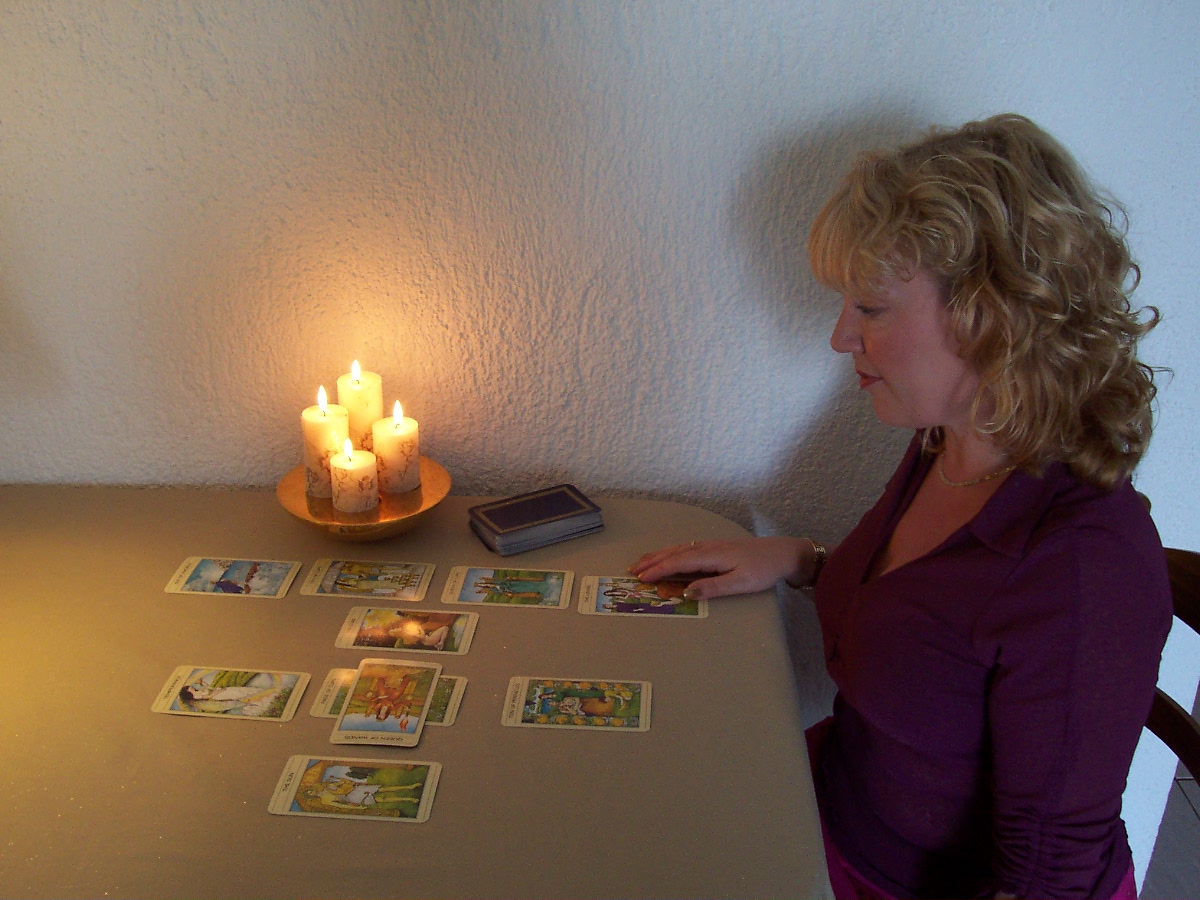 It's a great Tarot course for the complete beginner or for those who know a little about the Tarot. The Tarot Reading course takes you from complete novice to a confident Tarot Reader. You will be able to conduct your own Tarot Readings for yourself, friends and family and even paying clients.
The Tarot Course contains all you need to know to understand and interpret the Tarot, to use simple but impressive Tarot Spreads and to give Tarot Readings for yourself and to others.
The Tarot Reading course has been devised in a simple, easy to understand format.
You will find that this Tarot course is the easiest and most cost effective way for you to start learning the Tarot so that you become confident and reach a professional standard quickly.
If you think you can never be good enough to be a Tarot Reader or lack the confidence to make a go of it – well think again. This Tarot Course has all the tips you'll need to surprise yourself, your friends and family and even paying clients. This truly is a life changing opportunity that you cannot afford to miss.

Tarot Reading Course
DISCOUNT PRICE ONLY $25.00
NORMALLY $70.00


After making payment click here to enter and submit your details. You will be asked to provide:

Your full name
The email address you want the Course sent to

(TAROT PACK NOT SUPPLIED)

Tarot Reading Course - Benefits to You
This Tarot Reading Course is perfect for:
Anyone who wants to be their own boss and give up their day job completely
Workers wanting an additional income to boost current earnings
Homemakers and 'stay at home Moms' wanting extra income that can fit round other responsibilities
Students wanting to supplement their income
Retirees wanting to pursue a hobby that provides an income too!
The small fee of just $25.00 is all you are ever asked to pay. It is a one off fee for the complete course.
Many people have an interest in learning the Tarot for themselves but are put off by the often long-winded and complex courses and self-help books available.
Anyone can easily attain a level of understanding that will enable them to give professional standard Tarot Readings with this Tarot Course. We all have a level of psychic ability that can be developed and used in the interpretation of the Tarot. All that is needed is a desire and enthusiasm to learn.
You will find that this Tarot course is the easiest and most cost effective way for you to start learning the interpretation of the Tarot so that you reach a professional standard enabling you to charge clients fees for your services.
The main objectives of the Tarot Reading Course are;
For you to understand the basic features and meanings of the Tarot.
For you to apply this knowledge effectively so that your confidence and intuitive skills are developed.
For you to possess the ability to use the knowledge and insights gained through study of this course to give professional standard face-to-face Tarot Readings.
The learning of the Tarot can seem daunting with the challenge of learning all the meanings of the 78 cards of the Tarot, the relationship with each other and their application in different spreads. Added to this you may be overwhelmed with the thought that you will be in a position to give professional Readings.
Don't be afraid – It's easy if you take one step at a time.
This easy way to learn the Tarot course consists of 7 Sections beginning with the basics and then moving gradually into more detailed aspects of the Tarot.

The course will guide you in every step you take. You can choose to take tiny Fairy steps or Giant leaps - it's all down to your level of enthusiasm, dedication and desire to get you to professional level in Tarot Reading that will dictate your learning speed.
---
For a single, small one-off payment, you will receive the whole of Alizon's
complete comprehensive but simple to follow Tarot Reading Course.

Your Tarot Reading Course will be sent to you as soon as possible by email.
Please allow up to 24 hours and provide a working email address to receive the course. (If, however you do not receive the course within that time then email me as occasionally documents can go astray and end up in Bulk or Spam folders.)
This item is sent in Portable Document Format (PDF) and requires Adobe Acrobat Reader to access.

TAROT COURSE OUTLINE
Section 1 The Major Arcana
This first Section will introduce you to the Tarot. The first group of the Tarot deck, the Major Arcana will be examined in detail. Your first task will be to look through the 22 Major Arcana cards, and complete a series of questions on your thoughts, feelings and emotions that each card evokes for you.
Section 2 The Fools Journey & Major Arcana Readings
In this Section you will follow the journey of the Fool and relate this to your own life and journeys you have made. After this you will be in a position to perform a Tarot Reading using only the Major Arcana.
Section 3 The Minor Arcana- Qualities of Suits
This Section will introduce the second group of the Tarot deck to you, the Minor Arcana. The focus of this Section will acquaint you with the four suits' qualities. The corresponding assignment will involve you relating what you have learnt to real life situations and characters.
Section 4 The Court Cards
The Court cards are the focus of this Section. You will familiarise yourself with each of the 16 Court cards and again relate traits and characteristics to real life.
Section 5 Number Cards 0-10
This Section will introduce you to the number cards. You will be in a position to compare and contrast the different qualities of the suit for each of the number cards.
Section 6 Tarot Spreads
This Section will look at Tarot spreads, focusing on two simple but effective spreads that will enable you to practice Tarot Readings.
Section 7 Readings and Intuitive Skills
In this final Section you will learn how your intuitive skills can be used in conjunction with all the knowledge you have gained in previous Sections so that you are able to give Tarot Readings with confidence.

Order Your Tarot Course
Click on the Order Now button now to purchase your Tarot Reading Course for just $25.00 and begin learning the Tarot fast! Your Course is sent within 24 hours.
You can buy a Tarot Course for a friend - it makes a wonderful gift.
Please allow up to 24 hours. If you do not receive the course within this time then please contact me as occasionally documents can go astray and end up in Bulk or Spam folders.

---
The Tarot deck used to illustrate is the Rider Waite Deck. You can buy this Tarot deck from Amazon or use any other Tarot deck you have.

---
REVIEWS


FAQ
Did you love this page? Please share it with your friends!

The law requires me to state that the contents of this website are for entertainment purposes only.
Psychic, tarot and spell casting services cannot be a substitute for professional, legal,
medical, financial or psychiatric advice/care, where appropriate.
You must be at least 18 years old to make any purchase from me.

© Copyright All Original Content 2006 – 2019 Alizons-psychic-secrets.com. All Rights Reserved.
Reproduction in whole or in part without permission is not permitted.