Myth and Superstition about Swallows

---
Alizon - expert, experienced, skillful, knowledgeable...
The Power of Magic
If you have an interest in spirituality, are intrigued by astrology, fascinated by Tarot cards or captivated by Psychic abilities, then the next logical step is to look into the power of Magic.
Having a Spell Cast is Magic you can believe in.
Are you a Taurus?
 Superstitions about Swallows

There are many superstitions about swallows.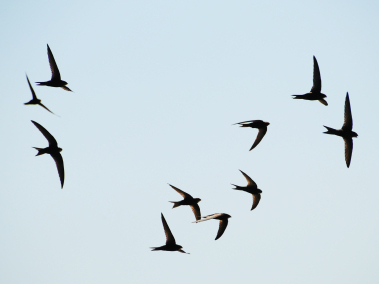 The swallow was sacred to the Greek goddess Aphrodite who was goddess of love, beauty and pleasure.
The swallow is known by some as 'the bird of freedom'' as it is free to travel over many hundreds of miles passing over seas and many lands, returning each year to the very nest it was hatched in.
Make a wish on the first swallow of the summer and it is sure to come true!
Some say that swallows flying high indicate good weather and swallows flying low is an omen of stormy weather. If you see swallows flying over your home you should see it as a lucky omen of good fortune coming your way. Conversely if you see swallows squabbling it indicates misfortune.
A swallows nest built in the eaves of a house is considered to be extremely good luck bringing success, good fortune and happiness. And to remove a swallow's nest is said to bring sadness and loss into the home.
The appearance of thirteen swallows at sunset indicates a death is imminent.
Greek Mythology

In Greek mythology, outlined in Ovid's Metamorphoses, Philomela and her sister Procne were daughters of Pandion, a king of Athens. The sisters were parted after Procne married Tereus, king of Thrace and went to live with him in his kingdom.
After five years the sisters wanted to reunite, so Tereus agreed to go to Athens and bring Philomela back to see Procne. On the journey back to Thrace Tereus lusted after Philomela and eventually raped her. He then cut out her tongue so she would remain forever silent about the brutal crime and hid her in a cabin and told Procne that her sister was dead.
Unable to speak, Philomela wove a tapestry that told her story and had it sent to Procne by an old woman. When Procne saw the depiction in the tapestry, she asked the woman to lead her to Philomela to rescue her. 
Procne took revenge on her husband by killing their son Itys and serving him to Tereus for supper. The sisters then presented him with the severed head of his son. He became enraged and  snatched up an axe and pursued them with the intent to kill both Procne and Philomela. The sisters prayed to the gods for protection who transformed them all into birds. Tereus became a hoopoe, Philomela a swallow and Procne became a nightingale.
In nature the Hoopoe has an impressive crown of feathers.
The female nightingale is mute and only the male of the species sings. The song of the nightingale is often interpreted as a song of sorrow.

Skeptical about Spells?

Even if you are slightly skeptical, uncertain or wary, powerful positive energies combined with expert Spell casting will soon have you convinced in the power of Magic. I ensure that my Spells are carefully crafted, use only positive energies and are cast expertly and effectively.
Pure White Magic
All my Spells that I cast cause harm to none. My Spells cannot backfire and do not force or bend the will of anyone. I work only in love and light and use only the positive form of White Magic.

Thousands of my clients have already benefited from the powerful Spells I have cast for them. Discover for yourself the secret power of Magic.
---
REVIEWS


FAQ
Did you love this page? Please share it with your friends!

The law requires me to state that the contents of this website are for entertainment purposes only.
Psychic, tarot and spell casting services cannot be a substitute for professional, legal,
medical, financial or psychiatric advice/care, where appropriate.
You must be at least 18 years old to make any purchase from me.

© Copyright All Original Content 2006 – 2018 Alizons-psychic-secrets.com. All Rights Reserved.
Reproduction in whole or in part without permission is not permitted.