Silver Aura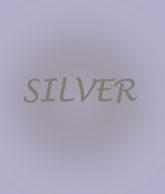 SILVER AURA
Silver Auras Colour Meaning
Here I'll try to explain Silver Auras and what it means in terms of colour meaning. The Aura colours that surround an individual can reflect their personality and point to their future destiny. Many have studied the Auras and Psychics can detect the predominant Aura colours surrounding someone.
Silver Aura people are exceptionally gifted. How they use their gifts wisely is their life lesson. Silver Aura individuals are bestowed with sensitivity, intuitiveness, psychic ability and practicality. They can use their spiritual understanding in very practical ways. Because of this they can relate to many people and are often found in teaching, mentoring or counselling roles.
Silver Aura people have immense versatility and adaptability and are capable of getting the most out of virtually every opportunity in life. Their high intellect enables then to make the right decisions quickly and follow through with action.
People who have predominant silver Auras are seen as very attractive. They attract many admirers. But Silver Aura people are very discerning and choose their friends carefully and their lovers very carefully.
Silver Aura people tend to be well blessed in looks, personality and talent and as such are seen as incredibly lucky people. Success seems to come easily to Silver Aura people.
Click the link for a Chakra Energising and Aura Cleansing
For more on Auras and their colour meaning go back to the main Aura page.
BACK TO AURA PAGE
---
HOME PAGE
| | |
| --- | --- |
| | Disclaimer: All aspects of psychic, tarot and spell casting services cannot be a substitute for professional, legal, medical, financial or psychiatric advice/care, where appropriate. |




You must be at least 21 years old to make any purchase from me.

© Copyright All Original Content 2006 – 2013 Alizons-psychic-secrets.com. All Rights Reserved. Reproduction in whole or in part without permission is not permitted.