Minoan Healing Energy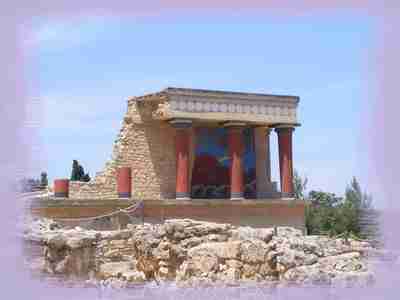 The ancient Minoan culture was the first European civilization. Founded on the Greek island of Crete, the society was peace loving, egalitarian, advanced and very sophisticated. Art, culture, religion, commerce and therapeutic healing developed in the complex labyrinthine architectural palaces. In the Minoan palaces Priestesses would conduct powerful healings in their ceremonial religious rites.

This unique idyllic advanced culture was lost to human memory for over three and a half millennia. Uncovered by archaeologists in the early 20th century the Minoan palaces of Crete revealed the amazing advanced Bronze Age culture. The most famous of the Minoan palaces was that of Knossos.
Minoan Healing Energy, with similarities to that of Reiki and other high vibration healing energy systems, is used to help heal a number of diseases and illnesses. But it also has powerful spiritual and practical benefits including increasing psychic abilities, connecting with Spirit and purifying and protection.
I am happy to offer distant healing therapy using Minoan Healing Energy for you, your friends or family or for much loved pets.
You cannot 'overdose' with the Minoan Healing Energy and can receive as many healing therapy treatments as required. As everyone is different and has different needs the requirement for additional treatments will of course vary. A physically fit, healthy person who just needs an energy boost to get through a difficult time will need less healing therapy treatments than someone who has physical illnesses, emotional traumas and mental health issues, for example.

---


 $29.99

After making your payment for r a Minoan Healing Treatment for yourself, loved ones or pets click here to enter and submit the details on my Healing Treatment Form.


Minoan Healing Energy

---
Disclaimer: Minoan Healing Energy is a complementary healing therapy and is not a substitute for medical care.
Information on this site is not intended to diagnose, treat, cure, or prevent any disease. You should consult
with the appropriate health practitioner in case of any medical condition.

Client Reviews


Christine from Stamford, Connecticut, USA

"Hi Alizon! Thank you for another GREAT Casino win! after casting me a Money Spell."
Thomas from Muir, Switzerland

"You cast a Money Spell for me. My turnover increased 70% during the last three months! You helped me in a great way."
Terrence from Sacramento, California USA
"I wanted to thank you for the Money Spell you cast for me. I have seen immediate results and look forward to the continuous positive energy. Blessings to you."
Alexa Aurora, Colorado USA
"Hi! Again, thank you for all your work on the Money Spell. There have been amazing positive energies flowing around my finances already."
Judith from Wrexham, North Wales, UK
"I just wanted to thank you for casting the Full Moon Triple Cast Love Spell from the bottom of my heart. I know the full moon can be powerful but I didn't expect such great results so soon."
Charles from Smithfield, Queensland, Australia
"Thank you so much for the amazing and fantastic extreme success you had in the Return Lover Spell you did. Within 24hrs my ex contacted me and wanted to see me straight away. I could not believe it. It was amazing."
Lynne from Topeka, Kansas, USA
"You cast an Attraction Spell for me. It took several weeks to work, but when it did, it worked like ... well like magic! I have found the most wonderful, perfect, man in the world for me!"
Graham from Dartmouth, Nova Scotia, Canada
"Just one word – UNBELIEVABLE!!! The reaction I got just days after you cast the Sex Spell was incredible."
Nina from Picton, NSW, Australia
"I just wanted to share with you the best news ever! Your Fertility Spell worked! I've waited so long for this to happen and I'm over the moon. Thank you so much Alizon."
Yvette from Singapore
"The Psychic Ability Spell you cast has begun to work. I can sense the connections with spirit much stronger than before. I have been more and more sensitive to other "beings" around me also."

The law requires me to state that the contents of this website are for entertainment purposes only.
Psychic, tarot and spell casting services cannot be a substitute for professional, legal,
medical, financial or psychiatric advice/care, where appropriate.
You must be at least 18 years old to make any purchase from me.

© Copyright All Original Content 2006 – 2017 Alizons-psychic-secrets.com. All Rights Reserved.
Reproduction in whole or in part without permission is not permitted.