A Protective Lucky Charm…
 Lucky Charm



Due to continued great results with my Spell casting and requests from my many clients to provide something physical, magical and tangible that can be carried or held close I have made available this very powerful Lucky Charm.
The spiral represents positive energy radiating outwards. It is an ancient symbol that has a positive meaning for every culture and civilization that used it. You can make the most of the very positive energy exuded by the spiral in the form of a Sterling Silver Lucky Charm.
Silver is of course associated with the powerful Moon Energy and is sacred to the Moon and to all Moon Goddesses, such as Artemis, Diana, Isis, Chang O, Hecate, Cerridwen and Selene. Wearing silver is said to aid psychic ability of the bearer and carries energies that are very attracting of health, wealth and happiness. Silver is a very attracting of positive energy and repellent of negative energy.
This is a genuine Sterling Silver Spiral Lucky Charm. Traditionally used to protect and ward of curses and bad luck the Lucky Charm can be carried, worn or attached to all manner of things.
The 'luck' part to these Lucky Charms are that they come blessed and Spell infused by me, Alizon, a genuine White Witch.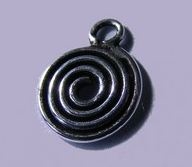 LUCKY CHARM
(Not actual size)
Because of the tremendous amount of time and energy to magically and powerfully infuse each individual lucky charm for full potency I am forced to limit their availability. So if you feel you are destined to be the possessor of this lucky charm and benefit from its power you need to order it now.
This is a genuine Sterling Silver Protective Pentagram Lucky Charm. Traditionally used to protect and ward of curses and bad luck the Protective Lucky Charm can be carried, worn or attached to all manner of things.
The 'luck' part to these Protective Lucky Charms are that they come blessed and Spell infused by me, Alizon, a genuine White Witch.
Ancient Spell Infused
The Lucky Charm has been infused with an Ancient Spell and is very potent and is only performed on the Full Moon. (Spells cast on the evening of the Full Moon are known to be three times more potent than any other evening of the year).
I have spent much time and effort infusing this Lucky Charm with extremely powerful energies to create a very potent and perfect lucky charm. The Lucky Charm has been ritually blessed, fully charged, energised by positive magical energy and Spell infused with a Magic Spell that governs all facets of abundance, prosperity and positive energies.
It encompasses all luck and good fortune situations and can be used to draw to you wealth, love, good luck and happiness from many sources; gambling luck, windfalls etc. as well as business/career success, love, fertility or any aspects of your life where you feel you need extra luck. This is Magic that is over 4,000 years old. It is sacred and uses the Full Moon energy. If you are very Psychic yourself you will feel this energy and power just looking at the picture of the Lucky Charm.
As possessor of the Lucky Charm you may experience feelings ranging from slight warmth or tingling to extreme psychic exhilarating energy similar to an orgasm!
The Lucky Charms are tiny enough to carry anywhere and everywhere (7mm).
Protective Positive Energy
This extraordinary life force energy used to bless the Lucky Charm is a healing, protective and positive energy. It heals, protects and in accordance with the Ancient Law of Attraction draws towards you positive elements.
By becoming the owner of this Lucky Charm the imbued energy is allowed to move through your personal energy field and charge it with positive energy. In doing so, it will raise the vibratory level of your energy and hopefully cause any negative elements, thoughts and feelings to break away.
Once you become attuned to this ancient energy source, by carrying and holding your Lucky Charm you can begin to live the life you want. This can mean having abundant wealth, strong and vibrant health and real happiness in the form of loving relationships. Quite simply – everything your heart desires!
Increased Psychic Ability
The Protective Lucky Charm will immediately increase your psychic sensitivities and abilities – whatever your starting point. If you are already intensely attuned psychically then this will deepen and strengthen your connection. If you feel you have little or no psychic abilities then carrying and holding the Protective Lucky Charm should develop them.
This will allow you to always make the right decision at the right time and in the right way. This relates to all aspects of your life – money, career, health choices, relationships, love.
Be Lucky! - Order today!
The Lucky Charm helps you create an energy aura of success that draws towards you opportunities and good luck. You align yourself with the intention that you can and will live the life you most desire with harm to none.
You remove negative energies that cause you to sabotage your efforts with money management, career goals and love relationships. In their place you draw towards yourself positive energies and become more capable of manifesting all the things you want in your life.
By receiving one of the blessed & fully charged Lucky Charms you will begin to learn how to use energies to help yourself. By having the ability to be in the right place at the right time, by pulling towards you positive elements, people and circumstances, by visualising and manifesting goals and by drawing on Ancient Wisdoms in the form of Universal Laws, you can have all you want and need, whenever you want and need it.
By choosing now to become the owner of a Spiral Lucky Charm you will begin to take the first steps to life changing possibilities. If you choose to become the owner of this Lucky Charm you will begin to see your life change in very special and magical ways. Not only will you become more psychic and more intuitively sensitive to others, you will notice over time that you suddenly attract whatever your heart desires!
No matter who, what or where you are or your starting point on the road to health, wealth and happiness, you can achieve all you desire by acting now by becoming the owner of this blessed and fully charged Lucky Charm.
Lucky Charm
NORMALLY $60.00
DISCOUNT PRICE ONLY $30.00

Free Postage
Once you have purchased your Protective Lucky Charm I will send it as soon as possible to your given mail address.

Did you love this page? Please share it with your friends!

The law requires me to state that the contents of this website are for entertainment purposes only.
Psychic, tarot and spell casting services cannot be a substitute for professional, legal,
medical, financial or psychiatric advice/care, where appropriate.
You must be at least 18 years old to make any purchase from me.

© Copyright All Original Content 2006 – 2017 Alizons-psychic-secrets.com. All Rights Reserved.
Reproduction in whole or in part without permission is not permitted.