The Knight of Wands Tarot Card…

The Knight of Wands Tarot Card Page is from the Tarot Meanings section of Alizon's Psychic Secrets website. On this site you can find lots of information on Psychic matters, including the Tarot and Tarot Readings, Psychic Abilities, the 7 Secrets, Chakras, Colour meanings, Crystals, Herbal Lore, Wicca, Magic Spells and lots more…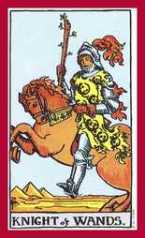 KNIGHT OF WANDS
Court cards in a Tarot deck most often describe a certain type of person. When a Court Card appears in a Tarot Reading you are doing for yourself it may be indicating one of your personality traits or qualities that you need to be aware of.
The Wands are a fiery, passionate and creative suit. In the past this suit was associated with peasants and today it is still used to predict changes in work and creativity. The Wand's direction is south; its element fire, its season summer and the astrological corresponding signs are Aries, Leo, and Sagittarius. Key words associated with the suit of Wands are creativity, growth, ambition, expansion and ventures.
The Knight of Wands can indicate quite dramatic changes in events with movement in home or career and possible overseas travel. Positive connotations associated with this card are the personality traits of strength, vitality and spontaneity. Negative connotations associated with this card are the personality traits of jealousy, being argumentative and possibly having a violent temper.
The Knight of Wands also known as the Knight of Staves indicates a man less than 35 years of age. The physical characteristics of the man would be fair hair with grey or blue eyes.
Such a person could be present or about to appear. These characteristic could apply to the Reader too, if they are conducting a Reading for themselves.
There is no definitive right or wrong way to interpret the meanings of Court Cards in Tarot Readings. Remember the above possibilities but listen to your intuition for guidance when doing a Reading.
---
Getting a Tarot Reading



You can get a full professional and personal Psychic Tarot Reading from me, Alizon.
For more information CLICK HERE.

Learn the Tarot



Learn how to conduct your own Tarot Readings, for fun or for profit, with my professional standard certificated Tarot Reading Course CLICK HERE.
HOME PAGE
---