The Four of Wands Tarot Card…

The Four of Wands Tarot Card Page is from the Tarot Meanings section of Alizon's Psychic Secrets website. On this site you can find lots of information on Psychic matters, including the Tarot and Tarot Readings, Psychic Abilities, the 7 Secrets, Chakras, Colour meanings, Crystals, Herbal Lore, Wicca, Magic Spells and lots more…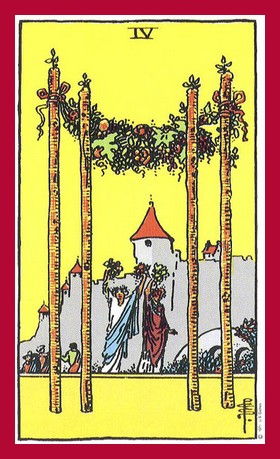 FOUR OF WANDS
The Four of Wands also known as the Four of Staves is traditionally associated with celebrations, holidays or parties. There may be good reason to celebrate, but you must acknowledge once the holiday is over, you must get back to work.
The Four of Wands can also signify freedom and the feelings of release that come with it. Its other main associations are related to committed relationships, births, a house purchase or move and sharing one's good fortune with another.
Positive connotations associated with this card are satisfaction, completion or celebration.
Negative connotations associated with this card are lack of progress, impatience or unfulfilled romance. The Wands are a fiery, passionate and creative suit. In the past this suit was associated with peasants and today it is still used to predict changes in work and creativity.
The Wand's direction is south; its element fire, its season summer and the astrological corresponding signs are Aries, Leo, and Sagittarius.
Key words associated with the suit of Wands are creativity, growth, ambition, expansion and ventures.
---
Getting a Tarot Reading



You can get a full professional and personal Psychic Tarot Reading from me, Alizon.
For more information CLICK HERE.

Learn the Tarot



Learn how to conduct your own Tarot Readings, for fun or for profit, with my professional standard certificated Tarot Reading Course CLICK HERE.
HOME PAGE
---