Blue Meaning
Blue Colour Meaning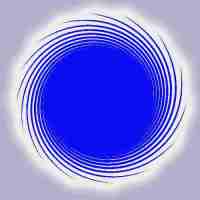 The Colour Blue is part of my Colour Meanings series...
As I am English, I use the spelling of 'colour' throughout my website, rather than the American version of 'color'.

Favourite Colour of Blue
If your favourite colour is blue you are likely to display at least some character qualities of the colour personality linked to blue. You may also hold some of the more negative character traits associated with the meaning of blue.

Blue Meaning
Blue is the coolest of colours and is the colour of the sky and the oceans. It is the most favoured of all colours. The meaning of blue is that of calmness, cleanliness, communication and clarity. A blue colour meaning is often explained as that most associated with wisdom, loyalty, faith and truth.

Blue Colour Personality

The blue colour meaning linked to personality explains the character traits most associated with people who have blue as a favourite colour. 
So if you have a blue colour personality you have the ability to read people. You can immediately tell if you can trust someone and if their motives are honest. You are a very good judge of character and will not be taken advantage of.
You are a very honest, straight forward and trustworthy person and can be relied upon to do the right thing. You have strong moral values and expect the same of others.
You are a master communicator and will always flourish in careers that need good communication. Writing, speaking and even through art and music you are able to get your message across.
You need and seek out calmness and harmony and avoid over dramatic and over exuberant people and circumstances.
If you have blue as a favourite colour you are quite cautious and conservative and always look before you leap. You are measured and controlled and will think things through before acting, reacting or interacting with others.
As a partner you are loving, loyal and open in your communication. Honesty and truthfulness are paramount to you and you would not tolerate an unfaithful partner.
On the downside of a blue colour personality you can be too talkative and lack listening skills.
With blue as a favourite colour you may also have a tendency to have unrealistic expectations of others.
You may also be prone to feeling down, depressed or sad.

If you have blue as a favourite colour then you will need to communicate clearly all your thoughts, feelings or ideas with others. Do this coolly, clearly and keep to the point.
A need for calmness is also called for in your life so find some time to de-stress.
You possibly will have to deal with some challenging issues but nothing you cannot handle, if you keep your cool and articulate your thoughts clearly.
Place all your cards on the table and expect others to be just as open in return.
Be very open and receptive to learning new things especially in regard to how you can further help people with your natural talents. Keep your eyes, ears and mind open to new opportunities that may very well appear 'Out of the Blue!'

The use of colour, their colour meanings and what they represent are very important in my  Magic Spell Casting to change destiny for the better!!!

Client Reviews


Christine from Stamford, Connecticut, USA

"Hi Alizon! Thank you for another GREAT Casino win! after casting me a Money Spell."
Thomas from Muir, Switzerland

"You cast a Money Spell for me. My turnover increased 70% during the last three months! You helped me in a great way."
Terrence from Sacramento, California USA
"I wanted to thank you for the Money Spell you cast for me. I have seen immediate results and look forward to the continuous positive energy. Blessings to you."
Alexa Aurora, Colorado USA
"Hi! Again, thank you for all your work on the Money Spell. There have been amazing positive energies flowing around my finances already."
Judith from Wrexham, North Wales, UK
"I just wanted to thank you for casting the Full Moon Triple Cast Love Spell from the bottom of my heart. I know the full moon can be powerful but I didn't expect such great results so soon."
Charles from Smithfield, Queensland, Australia
"Thank you so much for the amazing and fantastic extreme success you had in the Return Lover Spell you did. Within 24hrs my ex contacted me and wanted to see me straight away. I could not believe it. It was amazing."
Lynne from Topeka, Kansas, USA
"You cast an Attraction Spell for me. It took several weeks to work, but when it did, it worked like ... well like magic! I have found the most wonderful, perfect, man in the world for me!"
Graham from Dartmouth, Nova Scotia, Canada
"Just one word – UNBELIEVABLE!!! The reaction I got just days after you cast the Sex Spell was incredible."
Nina from Picton, NSW, Australia
"I just wanted to share with you the best news ever! Your Fertility Spell worked! I've waited so long for this to happen and I'm over the moon. Thank you so much Alizon."
Yvette from Singapore
"The Psychic Ability Spell you cast has begun to work. I can sense the connections with spirit much stronger than before. I have been more and more sensitive to other "beings" around me also."

The law requires me to state that the contents of this website are for entertainment purposes only.
Psychic, tarot and spell casting services cannot be a substitute for professional, legal,
medical, financial or psychiatric advice/care, where appropriate.
You must be at least 18 years old to make any purchase from me.

© Copyright All Original Content 2006 – 2017 Alizons-psychic-secrets.com. All Rights Reserved.
Reproduction in whole or in part without permission is not permitted.