Black Cats - Good Luck Or Bad Luck?
Black Cats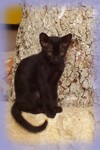 Are black cats lucky or unlucky? This is a question that has perplexed many people who study the cultures and folklore superstitions of differing traditions.
In Britain and Ireland the answer is a definite yes. The black cat is seen as an extremely lucky omen and is welcomed as a sign of good luck to come.
In other countries and cultures the opposite belief is held and the black cat can be seen as incredibly unlucky.
In ancient times cats were animals to be revered and in Ancient Egypt the humble cat was worshiped as a sacred animal. The Romans also held the cat in high regard and introduced cats as pets throughout Europe.
But as Christianity spread throughout Europe and pagans, wise women and adherents to other belief systems were persecuted; the black cat also saw a downturn in its luck.
Vulnerable women became the easy target for religious fanatics who wanted a scapegoat to explain the woes of the world. During the Middle Ages they were accused of witchcraft and were the victims of torture, hanging, burning at the stake and drowning.
These same women often kept cats as companions. Cats, and in particularly black cats, (deemed the colour of evil) were seen as "Witch's Familiars" or partners in crime to the accused Witch, and the poor animal suffered similar fates to those of their mistresses. In Witch trials, ownership of a cat was taken as evidence of witchcraft and was all the proof needed to condemn both the woman and the cat to a terrible fate.
But the humble cat redeemed itself as controller of vermin during the Great Plague that swept throughout Europe. The cat, and in particular the black cat, came to be seen as a very lucky omen.
Good luck superstitions surrounding the black cat sprung up. To have a black cat as a ship's cat ensured the safety of the sailors on board. Similarly, wives of fishermen who kept black cats were assured the safe return of their husbands, despite often perilous sea conditions. Newly weds were often given a black cat to bring them luck for their future together.
Today the symbol of a black cat is often connected with the feast of Halloween and to the Wicca religion.
It is considered extremely good luck:
-To own a black cat.
-To wear black cat charms.
-To have a black cat cross your path.
-To dream of a black cat.
BLACK CATS  ARE LUCKY!
All black cats are lucky but the luckiest black cat is said to be female, completely jet black with black whiskers and green eyes. If you come across a cat such as this, repeat this rhyme and good luck is sure to come your way.
Dearest Queen I bid you good day
Bring me the best of luck and send it my way!

Client Reviews


Christine from Stamford, Connecticut, USA

"Hi Alizon! Thank you for another GREAT Casino win! after casting me a Money Spell."
Thomas from Muir, Switzerland

"You cast a Money Spell for me. My turnover increased 70% during the last three months! You helped me in a great way."
Terrence from Sacramento, California USA
"I wanted to thank you for the Money Spell you cast for me. I have seen immediate results and look forward to the continuous positive energy. Blessings to you."
Alexa Aurora, Colorado USA
"Hi! Again, thank you for all your work on the Money Spell. There have been amazing positive energies flowing around my finances already."
Judith from Wrexham, North Wales, UK
"I just wanted to thank you for casting the Full Moon Triple Cast Love Spell from the bottom of my heart. I know the full moon can be powerful but I didn't expect such great results so soon."
Charles from Smithfield, Queensland, Australia
"Thank you so much for the amazing and fantastic extreme success you had in the Return Lover Spell you did. Within 24hrs my ex contacted me and wanted to see me straight away. I could not believe it. It was amazing."
Lynne from Topeka, Kansas, USA
"You cast an Attraction Spell for me. It took several weeks to work, but when it did, it worked like ... well like magic! I have found the most wonderful, perfect, man in the world for me!"
Graham from Dartmouth, Nova Scotia, Canada
"Just one word – UNBELIEVABLE!!! The reaction I got just days after you cast the Sex Spell was incredible."
Nina from Picton, NSW, Australia
"I just wanted to share with you the best news ever! Your Fertility Spell worked! I've waited so long for this to happen and I'm over the moon. Thank you so much Alizon."
Yvette from Singapore
"The Psychic Ability Spell you cast has begun to work. I can sense the connections with spirit much stronger than before. I have been more and more sensitive to other "beings" around me also."

The law requires me to state that the contents of this website are for entertainment purposes only.
Psychic, tarot and spell casting services cannot be a substitute for professional, legal,
medical, financial or psychiatric advice/care, where appropriate.
You must be at least 18 years old to make any purchase from me.

© Copyright All Original Content 2006 – 2017 Alizons-psychic-secrets.com. All Rights Reserved.
Reproduction in whole or in part without permission is not permitted.