Basil…
Basil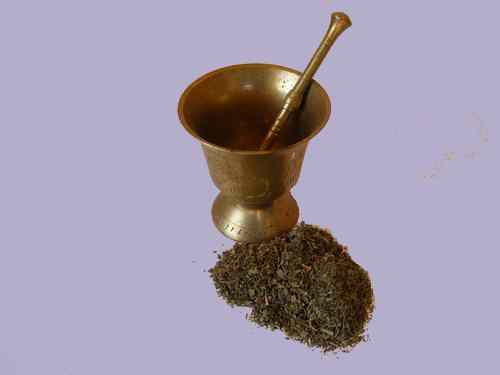 Culinary
Greek Basil is great to use in any recipes containing tomatoes. It is a very versatile herb and can add flavour to many dishes. It goes well with vegetables, soups, salads, eggs, seafood, meat, and game.
Herbal Lore
Hippocrates considered Basil as beneficial to the heart and prescribed it for treatment of constipation and to prevent vomiting. And Pliny suggested vinegar scented with basil would help prevent fainting.
Basil is of religious significance to the Eastern Orthodox Church and is used by the priest to bless people with. Many Greeks bring basil plants as gifts to the church or to have their basil plants blessed by the priest, as a blessing for the health and prosperity of their home.
It also can bring luck to people moving into a new home - a gift of a potted Basil plant guarantees good fortune.
Magical Usage in Spells
Scott Cunningham states in his Encyclopaedia of Magical Herbs that two Basil leaves placed on a live coal will give you an indicator about the state of your relationship. If they burn to ash quickly, the marriage will be harmonious, but if they crackle and hiss, your marriage will be disruptive.
Magically, Basil can be used in all Love Spells but in particular those for binding, ensuring fidelity and gaining commitment.
I use Basil in my Spells and in particular in my Love Spells, Prosperity Spells and Wealth Spells.

If you haven't already check out my other pages on the personal Spells Cast For You by me, Alizon, on your behalf.

Client Reviews


Christine from Stamford, Connecticut, USA

"Hi Alizon! Thank you for another GREAT Casino win! after casting me a Money Spell."
Thomas from Muir, Switzerland

"You cast a Money Spell for me. My turnover increased 70% during the last three months! You helped me in a great way."
Terrence from Sacramento, California USA
"I wanted to thank you for the Money Spell you cast for me. I have seen immediate results and look forward to the continuous positive energy. Blessings to you."
Alexa Aurora, Colorado USA
"Hi! Again, thank you for all your work on the Money Spell. There have been amazing positive energies flowing around my finances already."
Judith from Wrexham, North Wales, UK
"I just wanted to thank you for casting the Full Moon Triple Cast Love Spell from the bottom of my heart. I know the full moon can be powerful but I didn't expect such great results so soon."
Charles from Smithfield, Queensland, Australia
"Thank you so much for the amazing and fantastic extreme success you had in the Return Lover Spell you did. Within 24hrs my ex contacted me and wanted to see me straight away. I could not believe it. It was amazing."
Lynne from Topeka, Kansas, USA
"You cast an Attraction Spell for me. It took several weeks to work, but when it did, it worked like ... well like magic! I have found the most wonderful, perfect, man in the world for me!"
Graham from Dartmouth, Nova Scotia, Canada
"Just one word – UNBELIEVABLE!!! The reaction I got just days after you cast the Sex Spell was incredible."
Nina from Picton, NSW, Australia
"I just wanted to share with you the best news ever! Your Fertility Spell worked! I've waited so long for this to happen and I'm over the moon. Thank you so much Alizon."
Yvette from Singapore
"The Psychic Ability Spell you cast has begun to work. I can sense the connections with spirit much stronger than before. I have been more and more sensitive to other "beings" around me also."

The law requires me to state that the contents of this website are for entertainment purposes only.
Psychic, tarot and spell casting services cannot be a substitute for professional, legal,
medical, financial or psychiatric advice/care, where appropriate.
You must be at least 18 years old to make any purchase from me.

© Copyright All Original Content 2006 – 2017 Alizons-psychic-secrets.com. All Rights Reserved.
Reproduction in whole or in part without permission is not permitted.